In the Indiana town of Whiting, there's a group of corporate and government officials who think sports mascots are more than just silliness and slapstick comedy.
Whiting—a bedroom community of Chicago—is providing a prime parcel on its main drag on the shores of Lake Michigan for an ambitious initiative to recognize mascots. Global oil giant BP, which has a major refinery in the town, has committed enough cash to get the $20 million project off the ground.
Project officials declined to say how much BP has committed so far. The Mascot Hall of Fame will be set up as a not-for-profit organization.
A groundbreaking on a three-story, 25,000-square-foot building is scheduled for October. The new facility, which will be in the shape of a massive, smiling mascot, is projected to be done in late 2017.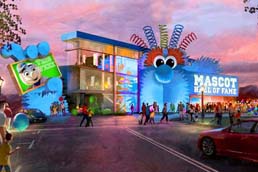 The three-story building is projected to be complete by late 2017. (Image courtesy Mascot Hall of Fame)
Mascot Hall of Fame Executive Director Al Spajer said the venue will draw more than 100,000 visitors annually to Whiting.
"That's a conservative number," said Spajer, a former United States Steel Corp. senior manager and director of employee relations.
The Mascot Hall of Fame was the brainchild of David Raymond, who played the character of the famed Phillie Phanatic, mascot of Major League Baseball's Philadelphia Phillies.
When Raymond was introduced four years ago to Whiting Mayor Joseph M. Stahura, a self-described sports nut, the plan for the Mascot Hall of Fame began to take shape.
Spajer promised visiting the Mascot Hall of Fame won't be like a typical hall of fame or museum experience.
"We want it to be a totally interactive experience from the time you walk in to the time you leave," Spajer said. "It's going to be a place to do as opposed to a place to go. We want it to be a place where you can move around, grab things, fire stuff off, get into mascot costumes and get on stage and do your thing."
The building's exterior mascot will appear to smile at drivers as they motor east on 119th Street, with Lake Michigan in the background, Spajer explained. Once inside, visitors will be able to jump into various mascot outfits, fire off T-shirt and confetti cannons, explore themed sections such as the Science of Silliness & Mascot Studies, the Department of Furry Arts and the Phuzzical Education Department.
"I think people are going to be absolutely blown away by what we have in store," Spajer said.
The facility is being designed by Cincinnati-based Jack Rouse Associates Inc., which designed the Coca-Cola Museum in Atlanta, the Crayola Experience in Pennsylvania and the Green Bay Packers Hall of Fame.
The Mascot Hall of Fame will also pay homage to some of the best known mascots in college and professional sports. Seventeen mascots including the Phillie Phanatic, San Diego Chicken and Ohio State University's Brutus the Buckeye have already been inducted.
There are three primary qualifications for the Mascot Hall of Fame, Spajer said. Mascots have to have been in existence at least 10 years, they have to be a good representative of the team, and they have to have done good work in the community.
"What we're trying to do is install characters that are appealing, but have a strong foundation in the community where they are a mascot," Spajer said.
Spajer thinks there's good reason to recognize sports mascots. After all, it's not just silly business.
"Mascots symbolize all that's good in the passion of rooting for a team," he said. "Whether your team is winning or losing, the mascot always entertains, inspires, gets you to laugh and constantly has that aura of positive vibes. They're the true link between kids and families and teams, and without them sports are worse off."
Please enable JavaScript to view this content.