Indianapolis Colts tight end Dwayne Allen could be ready for a breakout year—on and off the field.
With fellow tight end Coby Fleener departing the Colts to sign with the New Orleans Saints, the 26-year-old Allen is about to get a whole lot more action on the field this year.
He's also ready to step into one of the biggest local player sponsorship deals, which could make him more of a household name. It's a deal that has helped strengthen the image of several other Colts players.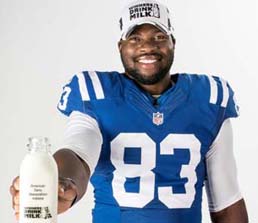 Allen will appear at dozens of schools across the state as part of Fuel Up to Play 60 events. (Image courtesy American Dairy Association Indiana Inc.)
Mooooove over Pat McAfee. Allen is succeeding the popular Colts kicker as spokesman for the American Dairy Association Indiana Inc., the group announced last week. As part of the deal, Allen will be the association's Fuel Up to Play 60 Ambassador. That puts him in front of an important audience for the Colts and the NFL: kids.
Financial terms of the deal were not disclosed.
Fuel Up to Play 60 is an in-school nutrition and physical activity program of the National Dairy Council and the NFL, in collaboration with the U.S. Department of Agriculture. As part of the deal, Allen will appear at dozens of schools across the state for Fuel Up to Play 60 events. He'll be a key part in delivering the program's messages about nutrition and exercise.
McAfee isn't the only popular Colts player who's been in this role. He was preceded by Colts wide receiver Marvin Harrison, who this month was enshrined in the Pro Football Hall of Fame; the ever-popular Reggie Wayne, a former Colts receiver who's likely destined for the Hall of Fame; and Colts running backs Joseph Addai and Donald Brown.
"Dwayne shares our philosophy that in order to excel, Hoosier students need to learn the basics of good nutrition and commit to a minimum of 60 minutes of daily physical activity, said Deb Osza, general manager of American Dairy Association Indiana, during a recent event at the Indiana Farm Bureau Football Center on Indianapolis' northwest side. "We think he's the ideal representative to take our Fuel Up message into area schools."
Milt Thompson, a longtime local sports marketer and president of Grand Slam Cos., isn't surprised the American Dairy Association chose Allen as its spokesman.
"Dwayne Allen has several characteristics that make him ideal for this deal," Thompson said. "He's very intelligent and articulate, but he also always wears a smile and is seen as a big teddy bear by children. He's a very approachable, affable guy, which really makes him a perfect match for this role."
Thompson thinks this deal will be as good for Allen as it will be for the American Dairy Association.
"There's nothing more important for the NFL, its teams and players than getting in front of youth," Thompson said. "That's the life blood of the sustainability of this sport. And since young people often influence the purchasing decisions of their parents—including things like buying tickets and apparel—it's also pretty important currently.
"A deal like this can really help grow the brand of the player involved. If he's popular with the children, he's going to be popular with their parents."
Please enable JavaScript to view this content.