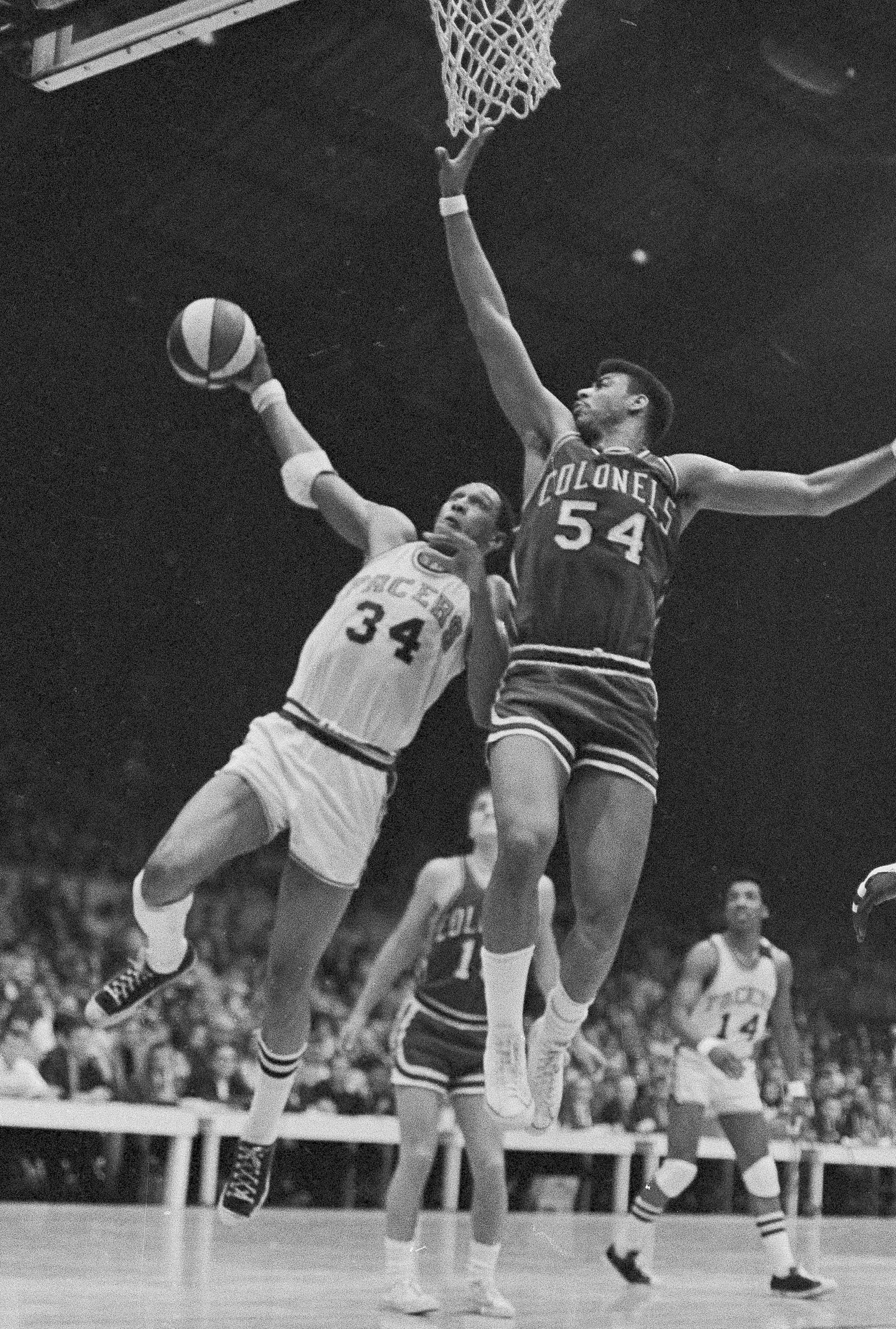 Indiana Pacers fans stepping into Bankers Life Fieldhouse for select home games during the upcoming season should be forgiven for thinking they have been transported there by the wayback machine.
Pacers officials are promising to transform the 18,165-seat fieldhouse from floor to ceiling for six special home games to look like each of the decades in which the team, which this season is celebrating its 50th season, has played.
Pacers officials Wednesday rolled out part of their anniversary celebration plans, which include commemorative gifts for ticket buyers and special appearances from past players. 
"This by no means is the complete show," said Pacers Chief Sales and Marketing Officer Todd Taylor of Wednesday's announcement. "We have many activities and programs yet to come as we celebrate this very special season." 
The team is labeling six home games "Decade Games" to celebrate each decade of the team's history—which spans a nine-year run in the American Basketball Association before joining the NBA in 1976.
The Pacers are also bringing back the popular Hickory jerseys for six home games to celebrate the 30th anniversary of Hoosiers and to add to the hoopla of the 50th anniversary.
Other plans to celebrate the team's 50th season will be announced in coming weeks, team officials said.
Fans attending the Pacers' home opener Oct. 26 against Dallas or any of the Decade Games will receive a bobblehead doll featuring a Pacers star from the decade being celebrated.
Bankers Life Fieldhouse will transform for each Decade Game—to look like the era in which the games took place—and include halftime ceremonies featuring players, coaches and staff who represented the Pacers during each decade. 
Each Decade Game will feature era-specific in-game entertainment, including videos, music, and other elements. Current Pacers players will join the celebration by donning shooting shirts inspired by Pacers uniforms from each decade, and their jerseys will feature a commemorative 50th Season patch for all games during the upcoming season.
The Decade Games schedule includes: Nov. 12 vs. Boston Celtics (1960s), Dec. 10 vs. Portland Trail Blazers (1970s), Jan. 7 vs. New York Knicks (1980s), Feb. 11 vs. Milwaukee Bucks (1990s), Mar. 12 vs. Miami Heat (2000s) and April 4 vs. Toronto Raptors (2010s).
The Hickory games for this season include: Nov. 18 vs. Phoenix Suns, Dec. 22 vs. Boston Celtics, Jan. 27 vs. Sacramento Kings, Feb. 24 vs. Memphis Grizzlies, Mar.  24 vs. Denver Nuggets and April 6 vs. Milwaukee Bucks.
Team officials are also planning a season-long anniversary celebration through special interactive features on Pacers.com and Pacers social media channels. Fans will be able to vote for their favorite Pacers players and teams and also share their favorite Pacers memories.
Please enable JavaScript to view this content.