The Indiana Pacers have joined the ranks of Indiana organizations with a specialty license plate offered by the Indiana Bureau of Motor Vehicles.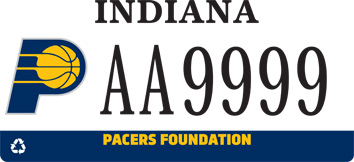 Beginning in January, vehicle owners will be able to purchase plates featuring the Pacers logo and benefitting the Pacers Foundation. The plate will be available for sale at any BMV license branch and online through myBMV.com.
All proceeds from the plate will go to the Pacers Foundation to support youth-serving organizations throughout the state, Pacers officials said.
The plate will cost an annual fee of $40, $25 of which goes to the foundation, in addition to registration fees and excise tax. Personalized plates also can be requested for an additional fee of $45. Purchasers can request specific numbers from 101 to 9999 on a first-come, first-serve basis.
"Since the Foundation's beginning in 1994, more than $7 million has been donated to organizations serving our Hoosier youth, and the specialty plate will enhance that giving for years to come," said Rick Fuson, Pacers president and Pacers Foundation chairman. "We're also delighted that Pacers fans can display Pacer pride on their vehicles, especially as we celebrate our 50th anniversary season."
The Pacers are the second professional sports team in the city to have a special license plate through the BMV. In 2006, an Indianapolis Colts license plate was introduced with 100 percent of the proceeds going toward the construction costs of Lucas Oil Stadium, which opened in 2008.
The Indianapolis Motor Speedway Hall of Fame Museum also has a specialty license plate, as does the Indy 500 Festival. Other sports-related specialty plates include tags for Indiana Soccer, the Indiana Golf Foundation, Special Olympics of Indiana and the Tony Stewart Foundation.
For a complete list of specialty plates offered by the BMV click here.
Please enable JavaScript to view this content.