Long-time Indianapolis Indians executive Max Schumacher scored his third Sagamore of the Wabash award on Wednesday, this one for his 60 years of service to the AAA minor league baseball team.
He was feted at the team's annual shareholders meeting by Indianapolis Mayor Joe Hogsett, City-County Council member Jeff Miller, a representative from Gov. Eric Holcomb's office and White River State Park Executive Director Carolene Mays-Medley.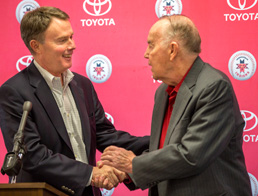 Mayor Joe Hogsett (left) feted Max Schumacher on Wednesday at the Indians' shareholder meeting. (Image courtesy Indianapolis Indians)
Hogsett read a proclamation making Feb. 8 "Max Schumacher Day in the city of Indianapolis."
Cynthia Carrasco, deputy general counsel for Governor Eric Holcomb, honored Schumacher with a Sagamore of the Wabash, the state of Indiana's highest civilian honor.
In November, Schumacher stepped down as the chairman and president of the Indians, a position he has held since 1969. He is now chairman emeritus, maintaining his position on the franchise's finance committee and serving as the host in the team's suite during games.
The 84-year-old started with the Indians as ticket manager in 1957. 
"At that point, I just needed a job and hoped it paid a little more than a corporal in the Army," Schumacher explained of his beginning with the team. "I didn't need much. I've always been tight."
That comment earned a laugh, as Schumacher has become well known among Indians staffers for the frugal way he runs the team. 
Schumacher entered the U.S. Army after graduating from college in 1954. While he was in the service, he discovered there was an opening with the Indians. He was later hired by then-board chairman Frank McKinney.
Schumacher received a Sagamore of the Wabash from Gov. Otis Bowen in 1980 and from Gov. Mitch Daniels in 2006.
Among the things Schumacher was lauded for Wednesday was helping get Victory Field built on what was then a gravel parking lot on the west edge of downtown, as well as agreeing to have the team pay for much of the upkeep and capital expenses of the venue over the first two decades it was open.
"Thank you very much. That is a first," Miller said with a laugh of the Indians' willingness to pay operational expenses for a city-owned sports venue.
Schumacher recounted the site search for a new venue to replace Bush Stadium on West 16th Street.
"White River Park was my first choice," Schumacher said. "And I've never regretted it. I always wanted the ball park downtown. I thought it was ideal with its central location with all the interstates crisscrossing through."
Schumacher also reminded the crowd of more than 100 people at the team's shareholders meeting Wednesday that according to the team's lease with the city's Capital Improvement Board, the Indians had—and still have—the right to sell the venue's naming rights. He also reminded the group how opposed to that he was—and still is.
"The name Victory Field has a lot of history to it," Schumacher said. "We didn't want to put a corporate name on it that might be subject to change.
"It's still Victory Field," he said emphatically.
Resting his hand on the shoulder of his son, Bruce, who's also his replacement as Indians chairman and CEO, Schumacher said with a slight smile: "And as far as I know it's going to stay that way."
Mays-Medley said Schumacher's contributions were difficult to measure.
"You're a prize in the Cracker Jack box. You're a home run," she told him at the meeting. "But really, you're more than that. You're a blessing."
Please enable JavaScript to view this content.