Fans reading Twitter blurbs or watching game replays from one of the NCAA's official accounts about the men's and women's basketball tournaments might be surprised to learn where those ruminations and video clips are generated and edited.
The nerve center for much of the official NCAA Twitter content regarding March Madness is born and shaped in Muncie and is being pumped out by a team of Ball State University students and their supervisors.
As part of a continuing educational partnership with the NCAA's digital and social media department, as many as 30 Ball State digital sports production students are assisting with providing fans an enhanced social media experience, NCAA officials said.
The students are under the direction of Chris Taylor, Ball State's senior director of digital sports production, and Alex Kartman, director of digital sports production.
Students in Ball State's Sports Link program, the nation's first fully digital sports production program, are managing communications for the official NCAA accounts @FinalFour and @ncaawbb and filtering content with #MarchMadness for the NCAA.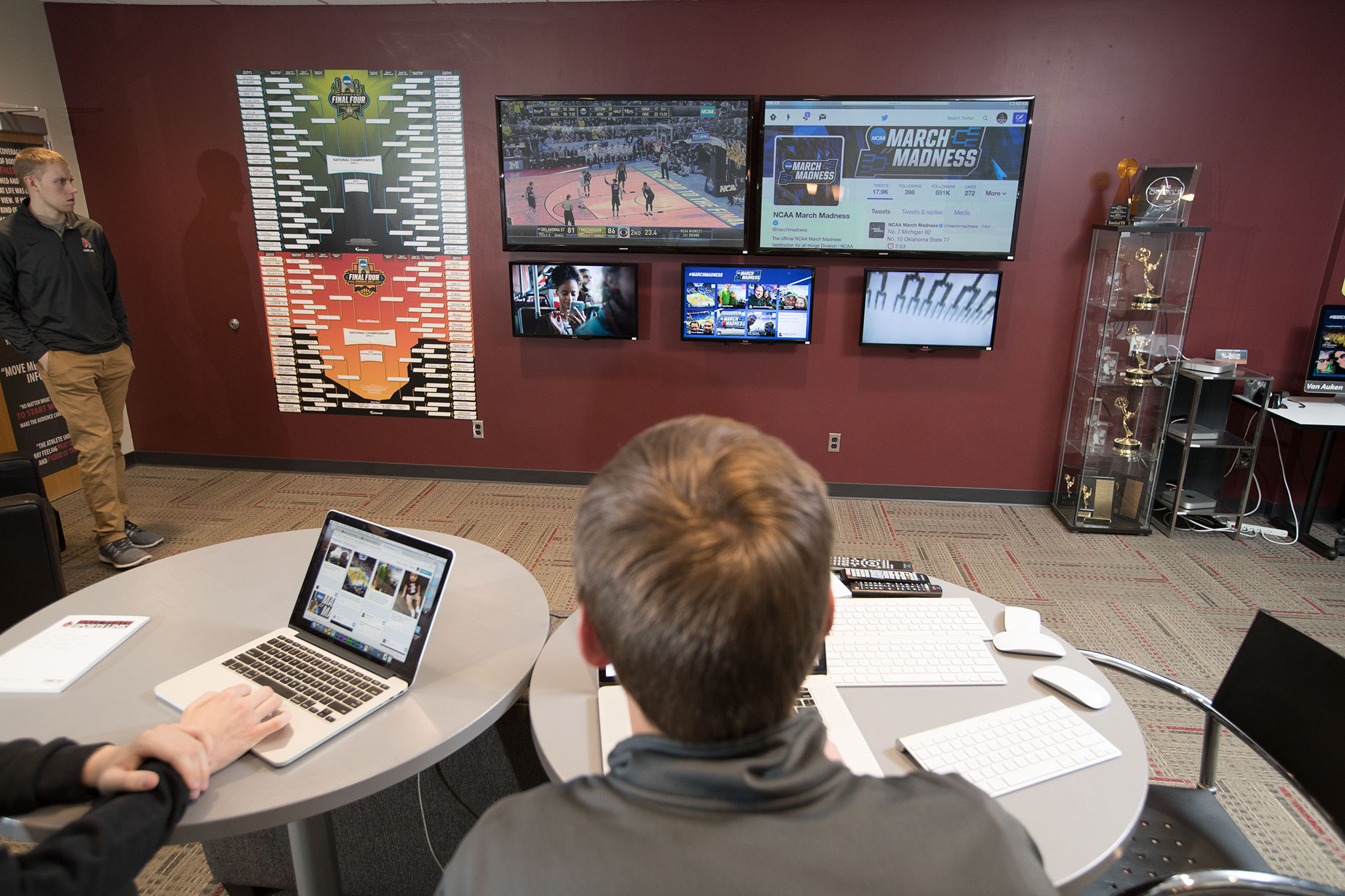 Starting with the First Four games on March 14, BSU students began curating and filtering content, responding to fans and operating an array of social media tools for the NCAA and its broadcast partners.
"Ball State's facility allows students to get experience using the same workflows and tools for social media monitoring and digital programming as those at Turner Sports, which is joining with CBS Sports to provide live coverage of all 67 games from the 2017 NCAA Division I men's basketball championship across four national television networks," Taylor said.
Ball State students are not only tweeting on behalf of the NCAA, but they're monitoring the March Madness and other NCAA hoops hashtags, editing those tweets from fans, sponsors and other sources and shipping some of those for display on in-venue video boards at the tournament's host sites.
The Ball State students are also grabbing video highlights from the women's tournament and re-broadcasting those clips via Twitter within 60 seconds of the time the play happened, Taylor said.
NCAA officials work in concert with BSU students to approve the social media content.
The social media hub for operations is the digital sports production center in the Ball Communication Building on the Muncie campus. The 1,500-square-foot facility is modeled after the Turner Sports Digital Operations Center in Atlanta. The Muncie hub is staffed by students logging more than 300 hours following all 132 games. Students will curate tens of millions of tweets and social impressions during the tournament, Taylor said.
The relationship between Ball State and Indianapolis-based NCAA got started in 2012 through connections Taylor and another Ball State alumnus had with the NCAA and Turner Broadcasting, Taylor said. Once the students proved themselves to the NCAA and its partners, the relationship took off, he added.
"This is the sixth year we've been involved with the NCAA in the basketball tournament and each year our involvement gets bigger," Taylor told IBJ. "We train our students to do really quality work and to do it under really tight deadlines. It's quality and speed of delivery that have been the key for us."
The NCAA and its partners don't pay Ball State—or most of the students—for the work they do. The students get class credit—and invaluable experience, Taylor said.
"In terms of the digital and social space, sports is leading the way. … And this project works with major brands, the NCAA, its broadcast partners and all the NCAA sponsors. For our students, this is tremendous experience," Taylor said.
And like many things in sports, the proof is in the numbers.
"A hundred percent of the [graduates] from our digital sports production track are employed," Taylor said, "and 97 percent are employed in sports media jobs."
Last month, Ball State sent 13 students to cover Major League Baseball training camps and write stories for Indiana media outlets.
Please enable JavaScript to view this content.