The Indianapolis Speedrome's first season under new ownership is off to a fast start.
Speedrome officials reported a near sell-out for its season-opener Saturday night. The facility's capacity is about 6,000. 
"It was a fantastic night—our biggest opening ever," said Speedrome President Jonathan Byrd II. 
That's saying something. The east-side racetrack, just north of Brookville Road between Arlington and Shadeland avenues, opened in 1941. 
"Along the entire front stretch, every seat was taken," Byrd added.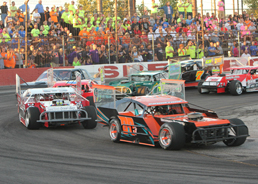 Speedrome officials hope to double average race attendance this season. (Image courtesy Indianapolis Speedrome)
The attendance was fueled by increased marketing and a bevy of improvements to the facility, which includes a one-fifth-mile oval and a quarter-mile figure 8 track. Tickets for opening night were discounted: $5 for adults, $2 for children ages 9 to 12, and free for younger kids.
Normal ticket prices this year are $10 for adults and $5 for children ages 9 through 12.
"It's important for us to introduce people to the improvements and new offerings," Byrd said.
However, the discounted ticket promotion was so successful, Speedrome officials have decided to repeat the special this Saturday.
Byrd told IBJ last month that he was hoping to double the Speedrome's average attendance to 1,500 for Saturday night and Sunday races this year, with a goal of 2,500 for next year. Saturday's opening was "a great first step to meeting our goals," Byrd said.
"We delivered a good first impression. Now we have to deliver every week," he said.
Kevin Garrigus bought the Speedrome in November with the goal of revitalizing the historic east-side short track, believed to have the oldest figure 8 track in the country. He's already put $500,000 into upgrades—with more on the way.
In addition to capital improvements including 560 stadium-style seats, a new sound system, remodeled bathrooms and added concession stands, Speedrome officials took food preparation in-house and added some items to the menu.
"We had good success with our concession sales," Byrd said. "We made 2,700 transactions in five hours. That's about 10 concession transactions every minute. The lines were long, but they were moving."
To meet demand, the track is adding more points of sale—especially dedicated drink stations—and an auxiliary kitchen on the southwest side of the track to better serve fans sitting along the back stretch. It is also adding more ticket booths and ticket takers for the weeks ahead.
Improvements also will be made in coming weeks to the pit area and fan parking lot, as well as additional upgrades to the sound system and lighting.
Racer turnout for the opener also was strong, Byrd said.
There were six divisions of on-track racing to launch the 2017 season, and the Lawrence Towing Factory Front Wheel Drive division had one of its largest opening fields in class history with 34 entries, Byrd said. 
"We had a good response from racers last year when Kevin bought the track," Byrd said, "and that continues this year."
Byrd is looking forward to a new event this year—a 90-minute figure 8 race held the night before the Indianapolis 500 in May—and the annual World Figure 8 Championship on Sept. 9.
"We think those two events will be huge this year," Byrd said.
Please enable JavaScript to view this content.