With the help of a savvy student from Carmel, Indiana University's Mark Cuban Center for Sports Media and Technology has developed its first virtual reality game.
Given that the Cuban Center is embedded within IU's athletic department and Indiana's love of all things hoops, it's not surprising the game involves basketball. The newly developed game gives players the feeling they are shooting hoops inside the hallowed Simon Skjodt Assembly Hall.
Maybe more surprising is that the innovative game was developed by IU senior Catherine Onofrey. It's one of the first such games developed with a specific college as a backdrop, school officials said.
Employers looking for a tech savvy up-and-comer, forget it. Onofrey has already accepted a job with General Motors in Atlanta upon graduation in May from IU's School of Informatics and Computing. At GM, Onofrey will work on software development, focusing on autonomous cars.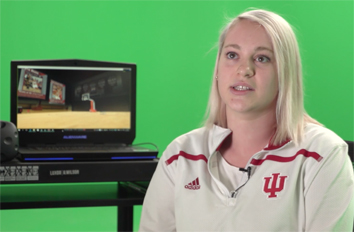 Onofrey pitched her idea for the game after taking classes in computer graphics. (Image courtesy IU Athletics)
Onofrey's interest in virtual reality began when she took 3D Computer Graphics, a 300-level class in IU's School of Arts and Sciences. She thought the class was going to be more art than tech. But then she realized the software and hardware being used in class were the same used to develop video games.
"We learned how to build objects and put textures on them," Onofrey told IUHoosiers.com. "It was more supposed to be like an art piece at the end, but I realized I could make games."
After enrolling in the corresponding 400 level class and taking an internship with the Cuban Center, Onofrey pitched her idea for a virtual reality game that puts players on the Assembly Hall court. Using an HTC Vive headset and a hand controller, players can pick basketballs off a rack and shoot them from different locations around the fabled Branch McCracken Court. That includes the free-throw and half-court lines.
"I presented the idea to (the Cuban Center) and we kind of came up with the idea of doing a basketball fan experience," Onofrey explained. "So then with that, we just kind of ran with creating Simon Skjodt Assembly Hall in a VR environment."
While playing the game, players also will see information and statistics for past and present players—men and women—in the IU basketball program.
The development of the game, school officials said, is a major milestone for the Cuban Center and its mission of partnering with academic units on campus to provide opportunities for IU students in various media and technology disciplines.  
IU has made a major push in utilizing virtual reality and other technology for sports media since Dallas Mavericks owner and IU graduate Mark Cuban gifted the school $5 million to launch the Mark Cuban Center for Sports Media and Technology in 2015.
In the fall of 2015, IU's athletic department used virtual reality to broadcast Hoosier Hysteria, the men's basketball team's season-opening practice. It was the first collegiate sporting event to be streamed in live virtual reality, according to school officials.
IU partnered with Dallas-based BigLook360 and used five Samsung Gear VR stations for the 2015 attraction. Fans at the stations were able to get a 360-degree view of the action, as if they were standing on the court.
The game developed by Onofrey, however, is the first application that lets fans actually go on the court and play basketball—at least in a virtual sense.
During the men's last regular season home game—Feb. 25 against Northwestern—IU partnered with Adidas to set a world record for the largest collective virtual reality viewing experience.
Onofrey and the Cuban Center are now working toward making the game more widely available to the public. The hope is to make it available by download for anyone who has an HTC Vive and Steam software.
Please enable JavaScript to view this content.