The Indiana Pacers turned heads Monday as basketball operations boss Larry Bird drove a tricked-out IndyCar down 5th Avenue in New York.
Bird was there to deliver the city's bid to host the 2021 NBA All-Star Game to league commissioner Adam Silver.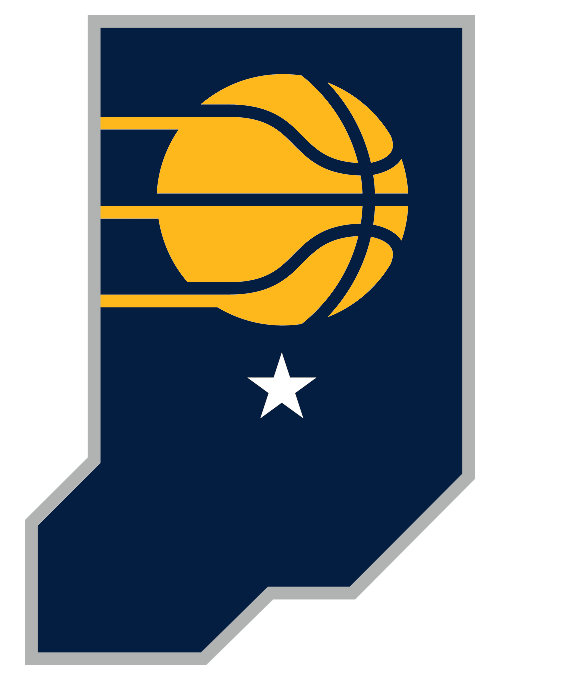 Also getting some attention: a new Pacers logo on the IndyCar featuring a yellow streaking basketball inside a modular, stylized blue state of Indiana with a white star at Indianapolis. Sports Illustrated sent out an Instagram of the image and plenty of fans chimed in. 
Fear not, traditionalists. The Pacers are not replacing either of their two primary logos—the P with the streaking basketball in it or the version featured at center court of Bankers Life Fieldhouse which is encircled in a gold ring that says Indiana on top and Pacers at the bottom.
"This is a new alternative logo," said Todd Taylor, Pacers chief sales and marketing officer. "It will be used when we do something statewide and with apparel.
"We don't want our primary logos to change," Taylor added. "They're very identifiable and iconic. We think they're great."
Like with any new logo, there was no shortage of supporters and critics on social media this week. 
"If it is the team's secondary logo, I'm fine with it. The secondary logo should be unique and not just a minimalist copy of the primary logo," said Ben Gibson, a writer for 8points9seconds.com, a popular web site covering the Pacers.
Pacers officials designed the logo—in conjunction with the NBA—to kick off the team's 51st year.
While the new logo made its debut on the IndyCar on Monday, it will make another big splash at the NBA draft on June 22, where it will be on the underside of the bill of the New Era ball cap given to the team's draft pick(s). Given how tall most NBA draftees are and the way in which many young people wear their hats (bill angled up), the logo could get plenty of exposure on draft night.
Taylor expects Pacers merchandise emblazoned with the new logo to be in retail outlets in June—just ahead of this year's draft. It will be on the side of ball caps (the main logo will be on the front) and also on shirts and an array of other items. Taylor is confident the new logo-emblazoned items will be popular.
The logo's straight state lines and the slight modification to the ball (crisper edges) are designed to "make the logo look more sleek and modern," Taylor said, and are meant to "complement our traditional marks."
"As we entered our 51st season, we wanted to introduce something that is a little more modern and to re-affirm we're a statewide team," Taylor said. "We want to reinforce we're Indiana's team."
Pacers officials wanted to put the new logo on the front top part of the IndyCar to show that hosting the NBA All-Star Game in Indianapolis in 2021 would be "a statewide effort," Taylor explained.
The Pacers aren't the first team to use their home state in their logo. Major League Baseball's California Angles and Milwaukee Brewers among others have done so.
Please enable JavaScript to view this content.