The Indy Eleven, a North American Soccer League franchise, last week signed a deal making Adidas its official uniform provider—and unveiled its new-look jersey.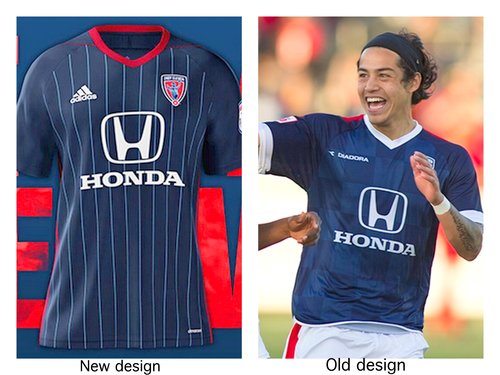 Adidas replaces Diadora which has been with the team since it launched four years ago. 
Gone is the jersey's subtle yet unmistakenable checkered background—a nod to the Indianapolis 500 and the team's support squad, the Brickyard Battalion—which was popular with the team's fan base. Team officials explained the design pattern was not available with the new clothier. 
"The checkers will forever be at the heart of the club in its crest and as a symbol of the Brickyard Battalion, the supporters group that proved vital in helping return professional soccer to Indianapolis," the team posted on its web site.
The new jersey is a slightly darker blue with white pinstripes. 
"Indy Eleven is excited and honored to join some of the world's greatest clubs in representing Adidas on the field," Indy Eleven president Jeff Belskus said in a statement. "Soccer fans and players alike know and appreciate the quality that Adidas delivers, and we look forward to wearing their three stripes with pride."
The German-based company provides uniforms for some of the world's top soccer teams including Real Madrid, Manchester United, Chelsea, Bayern Munich and Juventus, while also boasting the national teams of current World Cup champion Germany, Spain, Argentina and Mexico.
Adidas is no stranger to the U.S. market either, serving as a partner of Major League Soccer since its 1996 launch, including as the official athletic sponsor and licensed-product apparel partner of the league and its member clubs since 2005.
The Eleven is expected to debut the new blue Adidas home uniforms at IUPUI's Carroll Stadium May 6, when the team hosts 2016 NASL champ FC Edmonton. 
Indy Eleven also expects to unveil the design for and debut its secondary Adidas jersey later this month.
 
The new home and away jerseys were designed by Indy Eleven and Patrick Cummings, an Indianapolis-based graphic designer. A longtime member of the Brickyard Battalion, Cummings also helped design the Indy Eleven crest, logos and color scheme that were unveiled on Monument Circle four years ago. 
Please enable JavaScript to view this content.