News of the Indianapolis 500 leads the field one more time in this week's sports business roundup on The Score.
Sponsorship has Indy 500 driver looking good
Now that the field of 33 is set for the 101st running of the Indianapolis 500, there's at least one driver who can be guaranteed to look like a rock star on the Borg-Warner trophy—should he win on race day.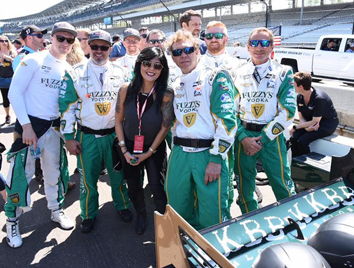 Kiss Kiss Bang Bang co-owner Tanya Foster poses with Spencer Pigot (far left) and his crew. (Submitted photo)
Locally based Kiss Kiss Bang Bang Salon—whose celebrity client list includes Slash of Guns n' Roses, Gerard Way of My Chemical Romance, Chad Kroeger of Nickelback and Kid Rock—this month signed on as a sponsor for sophomore Indy 500 driver Spencer Pigot. The salon has two locations in central indiana and one in Fullerton, California.
Pigot, a 23-year-old California native, will drive for Juncos Racing in Sunday's Indy 500, but has been driving for Indianapolis-based Ed Carpenter Racing all season. Pigot starts from the middle of row 10 at this year's race.
It's uncommon for small, local businesses to participate in sizable sponsorships for major, international sporting events. But KKBB is no ordinary small business. KKBB's co-owner, Cheez Brown, manages bands in Los Angeles such as Sublime and the Dirty Heads. He's from Indiana and lives here most of the time.
In 2007, Brown opened the first KKBB salon in Fishers with his longtime girlfriend, Tanya Foster, and together he said they run the salon with the same philosophy he's used with his bands: "Leave the baggage at the door, everyone is free of judgement." He credits that philosophy for the salon's fast-paced growth.
No doubt, Pigot will be stylin' this month like never before.
Kanaan living in style this May
Tony Kanaan might not have the hairdo Pigot can boast this month, but he'll certainly be living in style.
Locally based Litz Real Estate and Litz & Eaton Development Co., announced a month-long personal sponsorship of Kanaan, which includes providing a house for the 2013 Indy 500 champion and his family to live in this month.
During the month of May, Kanaan will reside in Litz & Eaton's newest home. Located along North Alabama Street near the heart of downtown, the 4,546-square-foot home features three bedrooms, three full bathrooms, a chef's kitchen and a three-car garage. In exchange for the living space, Kanaan will promote Litz Real Estate during the IndyCar Series races throughout May. Kanaan will sport the Litz Real Estate logo on his helmet during all on-track activities at the Indianapolis Motor Speedway this month.
"We are ecstatic to bring on the Litz Real Estate team … as my personal sponsor to showcase our love and appreciation for the Indianapolis community," Kanaan said in a statement. "I'm thankful the new, beautifully crafted home has been made available to my family in May. I know that both Kanaan Racing Inc. and Litz Real Estate will share the benefits of this great partnership right here in Indy."
ABC/ESPN ramp up race coverage with Visor Cam
One of ESPN's largest television productions of the year, the Indianapolis 500 telecast will be brought to race fans via 96 cameras and will mark the first live use of Visor Cam, an innovation introduced on ABC's IndyCar telecasts earlier this year. 
A tiny camera mounted to the helmets of drivers Graham Rahal and Josef Newgarden, Visor Cam will provide a view from the perspective of the driver and, according to ESPN/ABC officials "a true portrayal of how it feels to be inside the car, allowing fans to see how G forces move the driver's head and body around and how wind and bumps affect the car." 
Another first for the Indianapolis 500 telecast: ESPN will deploy ESPN Race Strategist, a predictive analytics system introduced earlier this year to bring viewers closer to the strategy that often determines race winners. 
The system supplements the usual scoring tickers and graphics with additional information related to race strategy such as tire compound choices and laps on tires, fuel windows and optimal laps for pitting, as well as predictive analysis of positions, lap time falloff and probability of cautions.
Twelve of the 33 cars in the race will have three onboard cameras apiece, while the cars of Rahal and Newgarden will have four each with the addition of Visor Cam. Viewers of the ABC telecast will have the option of a second screen experience through live streaming video from the onboard cameras on the ESPN app.
In addition to Rahal and Newgarden, drivers carrying onboard cameras during the race will be Dixon, defending 500 winner Alexander Rossi, Tony Kanaan, Ryan Hunter-Reay, Marco Andretti, James Hinchcliffe, Will Power, Gabby Chaves, Fernando Alonso, James Davison, Ed Carpenter and Helio Castroneves. 
Noblesville golf course hopes huge statue a draw
Purgatory Golf Club in Noblesville is taking an interesting approach to drawing golfers to its course.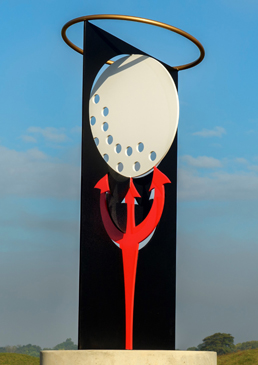 The sculpture is situated by the first tee at Purgatory Golf Club. (Submitted photo)
On Wednesday evening, course officials are unveiling an 11-foot tall metal sculpture called The Icon.
The massive sculpture, designed by local artists Marty Schliessmann and Scott Westphal, has been placed on the first tee and resembles the course's logo. The sculpture shows a white golf ball resting on a red pitchfork.
Purgatory Golf Course officials hope The Icon will attract visitors from across the country much like the Putter Boy statuette at North Carolina's Pinehurst Resort. 
The unveiling is being emceed by Noblesville City Council Vice President and Nickel Plate Arts Board member Chris Jensen. Noblesville City Council President Megan Wiles along with Purgatory owners Tenna and Mike Merchant and other dignitaries also will attend the unveiling.
Golf courses statewide have struggled to increase their business in recent years following a boom of golf course construction in the late 1990s and early 2000s. Courses have employed various tactics to try to draw in golfers from the local area and beyond.
Hamilton County tourism officials have made efforts to incorporate area courses into their marketing efforts in recent years.
Purgatory is regularly one of the region's highest rated courses. 
Old National Bank remains Fever floor sponsor
Old National Bank has renewed its deal to be the floor sponsor for the WNBA's Indiana Fever.
Terms of the two-year deal were not disclosed. The deal, which includes Old National getting its name and logo on the Bankers Life Fieldhouse floor (between center court and the visitors bench) during Fever games, runs through 2018.
Old National Bank has been a Fever sponsor since 2012.
The Old National deal does not include floor sponsorship during Indiana Pacers games.
The Fever are coming off a strong season financially last year and are hoping to capitalize on that momentum.
New cycling route traverses Marion, Hamilton counties
A 380-mile multistate cycling route that connects 15 counties across Indiana has been unveiled during National Bike Month this month.  
The route, called USBR35, is the first nationally-approved and interconnected cycling route in Indiana. (Click here for a map and here for specific directions.)
The USBR35 project was approved in 2015 by the American Association of State Highway Transportation Officials with the help of Indiana Trails and the Adventure Cycling Association.
The goal is to draw bicycle enthusiasts to Indiana by offering a unique Midwestern cycling experience that's safe and accessible, explained Richard Vonnegut, vice chairman for Hoosiers Rails to Trails Council.
The USBR35 route traverses Hamilton, LaPorte, Starke, Pulaski, Fulton, Miami, Howard, Tipton, Marion, Hancock, Shelby, Bartholomew, Jackson, Scott and Clark/Floyd counties.  
The route is part of a nationwide movement to make an interconnected national network of roads for cyclists to easily travel across the country, Vonnegut said. 
The project is part of a $20,000 grant from the Indiana Office of Tourism Development to make the state a more bike-friendly destination. 
When complete, the USBR system will encompass more than 50,000 miles across the country.
Please enable JavaScript to view this content.