Former Indiana University hoops star Jared Jeffries has made a tidy living on the hardwood.
Jeffries played 13 NBA seasons for Washington, New York, Houston and Portland, then spent nearly four years as the Denver Nuggets' pro personnel scout and director of pro personnel.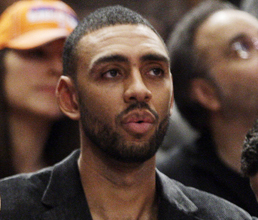 Jeffries played 13 seasons in the NBA before taking a front-office job with the Nuggets. (AP photo)
But the 35-year-old Bloomington native is now poised to leave real-life sports to take a job with Rick Fox's growing e-sports video game group.
First, a word for the uninitiated about e-sports: The term generally refers to organized video game competitions, often featuring professional players and presented for spectators. Although competitions involving video games have long existed, the popularity of e-sports has exploded in the last decade, and some events draw tens of millions of viewers and coverage from the mainstream sports media.
Fox, as you might recall, also has Hoosier roots and a strong resume in the NBA, playing high school basketball in Warsaw before moving on to the University of North Carolina and then 13 season in the NBA with the Boston Celtics and Los Angeles Lakers.
Now, Fox, who formed Echo Fox in 2015, is something of a rock star in the e-sports arena. Echo Fox fields teams and individual competitors for play in leagues dedicated to games such as "Call of Duty," "Injustice2" and "Super Smash Bros."
Jeffries was named Echo Fox president on July 13 and will start his new job Aug. 1. He will be in charge of player recruitment and team development in the professional e-sports organization.
Jeffries will be the point person on roster selection, team management, and overseeing player training, health and wellness programs. 
He'll also have a role in brand building, including overseeing streaming platforms, social media efforts and sponsor and advertiser relationships.
"I couldn't be more excited to join the Echo Fox family as it's clear they're leading the way in the next great spectator sport," Jeffries said in a statement.
"Jared Jeffries is a proven winner and fierce competitor on and off the court," Fox said in a statement. "We cannot be more excited to have someone with his pedigree as a professional player and front office executive help lead Echo Fox as it continues its ascension to the number one e-sports organization in the world."
Echo Fox has 40 paid players competing in 12 e-sports arenas. The company, based in Beverly Hills, follows the credo "we recruit the best and expect the best."
And Fox is pretty serious about his company's credo. He reportedly cut lose a handful of players after a poor showing at a tournament last November.
Please enable JavaScript to view this content.