The Indianapolis Colts are saying so long to one of their most valuable members.
No, Andrew Luck is not retiring. But the all-star quarterback will no doubt feel the impact of the change.
The Colts announced Monday that long-time head team physician Arthur Rettig is stepping down from his job after 33 years with the team. Rettig was the first physician to join the Colts upon the team's relocation from Baltimore in 1984 and has served as head team physician since 1999. He will continue to hold the title of emeritus associate team physician.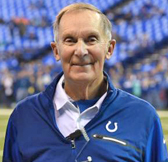 Dr. Arthur Rettig (Image courtesy Methodist Sports Medicine)
Rettig's contributions to sports medicine in central Indiana are so far-reaching that the the Indiana Football Coaches Association inducted him into its Hall of Fame in 2010.
"Working with Dr. Rettig for so many years has provided generations of our medical staff and athletic trainers with graduate level training in sports medicine," said Colts Head Athletic Trainer Dave Hammer in written comments. "He combines deep wisdom with unique kindness and understanding."
Rettig is also the orthopedic consultant and team physician to IUPUI and North Central High School.
In 2003, Rettig was honored with the Jerry "Hawk" Rhea award given annually by the Professional Football Athletic Trainers Society to an NFL physician for outstanding service to NFL players and the NFL Physician's Society. He was also a co-recipient of the Indiana State Medical Association's Commission on Sports Medicine 2003 Team Physician of the Year Award.
Rettig, a Methodist Sports Medicine orthopedic surgeon who specializes in disorders of the upper extremities and knees, earned his medical degree from Cornell University in 1967. He was an intern at San Francisco General Hospital and served a second post-doctoral year at the University of California-Berkeley. He completed his orthopedic surgery residency at the University of California- Irvine in 1976. 
He completed fellowships in sports medicine at Long Beach Memorial Hospital in Long Beach, California, and at the Indiana Hand Center in Indianapolis. 
Rettig's father was a physician, as is his son Lance, who also is an orthopedist at Methodist Sports Medicine. 
"Dr. Rettig has had an amazing 50-year career practicing sports medicine and orthopedic surgery," Colts Owner Jim Irsay said in a written statement. "We are extremely grateful for his outstanding service, professionalism and friendship as our team physician for more than three decades. I am also pleased he is going to continue serving the team as Emeritus Associate Team Physician."
The Colts said Dr. Thomas Klootwyk, who has been an associate team physician for 18 years, will replace Rettig as head team physician. Klootwyk joined Indianapolis-based Methodist Sports Medicine following his orthopedic sports medicine training there. He has been with the Colts as a team physician and orthopedic consultant since 1999.
Methodist Sports Medicine's Dr. Gary Misamore has also been with the Colts for 18 years and will continue his role with the team as associate team physician. 
Please enable JavaScript to view this content.