Indianapolis native and former Indiana Pacer Jeff Teague and his family are opening a fitness and training facility aimed at serving athletes from children to professionals in a range of sports.
The Factory, a new 33,500-square-feet facility at 6331 Crawfordsville Road, opens Aug. 20.
The Factory will have three full-sized basketball courts (which also can accommodate volleyball), a 3,036-square-foot turf area, a workout and weight room, a dance studio, an area for physical therapy, a break room and a concession stand.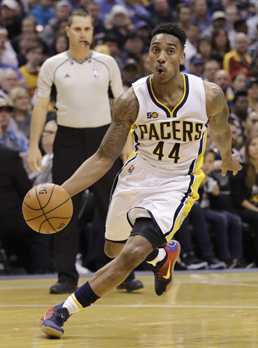 Jeff Teague played for the Pacers during the 2016-17 season and then signed with Minnesota. (AP photo)
The Teagues will be franchisees of D1 Training, a Nashville-based company that provides frameworks for fitness programs for people of all ages. The Factory will house the D1 Training center.
D1 Training was founded in 2001 by former NFL player Will Bartholomew. Other franchisees include NFL stars Von Miller and Michael Oher and former professional football player and current professional baseball player Tim Tebow.
"This is not like an LA Fitness. It's a different concept," said Starr Teague, Jeff's sister and general manager of the local facility. "We do things through classes with certified coaches to make sure everything is done correctly and to hold people accountable so they can achieve their goals. It gives people a lot of individual attention. We also think this system is a great way to foster a sense of community, no matter what your goals or skill levels are."
At a "soft opening" from 1 p.m. to 5 p.m. Aug. 20, local residents are invited to meet-and-greets with Jeff Teague and partake in giveaways, food and beverages, a DJ, tours of the facility and four free workouts. 
In addition to the soft opening event, there will be a grand opening on Sept. 9 with more free workouts, giveaways, and tours.
Ten Teague family members will be involved in the business, with five involved day-to-day, Starr Teague said.
While Jeff is still busy with his NBA career, "he plans to be very involved with this business," Starr said. "This business is something he's very passionate about, and I know he's going to be keeping a close eye on it."
Teague averaged 22 points a game at Pike High School in Indianapolis as a senior in 2006-07.
After playing college ball at Wake Forest University, he spent seven seasons with the Atlanta Hawks before playing the 2016-17 NBA season with the Indiana Pacers. He signed with the Minnesota Timberwolves in July.
The Factory will provide specialized basketball skills training programs, such as School of Basketball, Point Guard Academy and Team Training. D1  Training will offer specialized training for a wide range of sports including all the traditional stick-and-ball sports as well as marathon running and race-car driving.
"Jeff Teague and his family will be an excellent addition to our organization as they debut the Indianapolis location," said D1 Training President Michael Abramson in a media statement. "The performance center will bring a one-of-a-kind training experience and energy to the community, helping everyone actualize their goals and realize their athletic ability."
All D1 Training locations offer five age-based programs including Rookie (ages 7-11), Developmental (ages 12-14), Prep (ages 15-18), Boot Camp (adults), and Strength Training (adults).
D1 Training currently counts more than 30 performance centers across 24 states and anticipates more than 75 locations operating by 2019.
Please enable JavaScript to view this content.