There are plenty of new things to talk about as Indiana University kicks off its football season Aug. 31 against third-ranked Ohio State University: a new coach, a new $500,000 video board, and new uniforms, according to a preview tweeted this week by Adidas.
The fists are coming.

Some new threads coming for the Old IU and @HoosierFootball.#BreakThrough #teamadidas pic.twitter.com/w6tARHiPOK

— adidas Football US (@adidasFballUS) August 21, 2017
There's also the $53 million project under way to enclose Memorial Stadium's south end zone, which will be home to new locker rooms, athlete treatment areas and other support facilities. The project remains under construction but fans will get a great look at the future if they attend one of this year's games.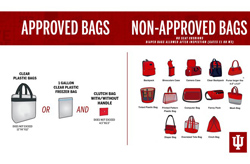 Still, what might be getting the most buzz is IU's new security policy, which will require fans to walk through metal detectors and prohibit most purses and bags, unless they're tiny or transparent. (Click image at right for larger view.)
Out with the backpacks, binocular cases, fanny packs and tote bags. In with clear plastic freezer bags or tiny clutches that are no bigger than 4.5 inches by 6.5 inches.
Our new clear bag policy will be in effect for all #IUFB & #IUBB home games: https://t.co/ZwjLBAWZwd. pic.twitter.com/S3koXWspah

— Indiana Hoosiers (@IUHoosiers) August 18, 2017
IU is now the 10th institution in the 14-school Big 10 conference to implement a clear-bag policy. (Four others ban bags completely). Officials say the new rules came at the recommendation of national security experts and will be implemented both at Memorial Stadium and at Simon Skjodt Assembly Hall.
Not all fans are thrilled. "I understand the reasoning behind this, but it unfairly penalizes women," one fan tweeted. "By and large, women's clothing is not available with pockets."
I understand the reasoning behind this, but it unfairly penalizes women. By and large, women's clothing is not available with pockets.

— Val (@vallell1961) August 18, 2017
"If I have to purchase a bag from God knows where for my essentials, just to attend an IU athletics event, I probably will not attend," another tweeted. "Sorry."
But a bigger concern—among school officials and fans—seems to be what the new security policy will mean for the lines at the opening game. Already, university officials say the game against the Buckeyes will be "the biggest opening game in IU football history," with a sellout crowd and ESPN's "College GameDay" broadcasting from inside Memorial Stadium.
The school has even launched a #GetHereEarly hashtag to try to get the word out. The game is scheduled for 8 p.m. on a Thursday night (Aug. 31).
"I would still urge people to first get to Bloomington early and then get to the stadium early to help us do things more smoothly," IU Athletic Director Fred Glass told reporters this week.
But some fans have used the hashtag to express their frustration.
"Does the admin think it's wise, they're aware 37 has been under renovation for 3 seasons? #gethereearly? How about roll it out later?" one tweeted.
IU officials say they're doing what they can. They say they chose to use walk-through magnetometers over metal-detecting wands at each gate because the screening time per patron ranged from five to seven seconds for the former, compared with 12 to 15 seconds for the latter.
The school has purchased additional ticket scanners, hired substantially more game-day staff, and plans to open some gates earlier.
IU also plans to hand out clear bags in parking lots before the Ohio State game, hoping that will remind fans about the new bag policy before they get to the gates.
And not everyone hates the new policy. One fan tweeted, "I'm actually looking forward to not tripping over all those bags."
I'm actually looking forward to not tripping over all those bags.

— Kami Van Prooyen (@kjvanprooyen) August 18, 2017
Please enable JavaScript to view this content.