A mass of black and gold will be descending on Monument Circle at lunchtime on Friday to help Purdue University kick off its 2017 football season.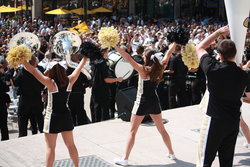 The Boilermakers play the University of Louisville on Saturday night at Lucas Oil Stadium. But before that, organizers expect to draw more than 10,000 Purdue faithful to the CircleUp! Tailgate from noon to 2:30 p.m. Friday. The event is sponsored by the not-for-profit Boiler Business Exchange of Indianapolis Inc., which seeks to raise the school's profile in Indianapolis and facilitate business networking.
This will be Purdue's second tailgate party on Monument Circle. The first took place during football coach Darrell Hazell's first year at Purdue in 2013. That year, more than 5,000 attended, but Purdue officials said this year's event has been marketed much more heavily.
The event will include requisite appearances by Purdue Pete, the university pep band and cheerleaders, as well as Purdue athletic greats Brian Cardinal, Rosevelt Colvin and John Standeford. Purdue President Mitch Daniels, new football coach Jeff Brohm and new Athletics Director Mike Bobinski will speak at 1:45 p.m.
The free program will be hosted by a pair of Purdue graduates: Indianapolis TV personalities and meteorologists Angela Buchman from WTHR-TV Channel 13 and WRTV-TV Channel 6's Kevin Gregory. 
More than a dozen food trucks—some offering eats from restaurants in the West Lafayette area—will set up at the event.
With Indiana University and the University of Notre Dame getting lots of coverage in Indianapolis, Purdue is eager to keep its brand strong in central Indiana, where many of the school's alums reside.
In hosting high-profile events, Boiler Business Exchange hopes to encourage support of Purdue University, the Purdue Alumni Association and the John Purdue Club.
"We at the Boiler Business Exchange are really excited to organize the 2017 CircleUP! tailgate and pep session, where we are preparing for greater than 10,000 Boilermakers faithful to paint downtown Indianapolis Gold and Black," Boiler Business Exchange President Matt Folk said in a media statement. 
The BBE is hosting a networking event at the Columbia Club preceding the tailgate where Daniels will deliver a State of Purdue address. The cost to attend is $50, BBE officials said, and the event is expected to sell out.
Please enable JavaScript to view this content.