If you think you see Kurt Busch's No. 41 NASCAR race car on the Lincoln Technical Institute campus on Indianapolis' northwest side, you're not hallucinating. And no, it's not time for the Brickyard 400 again.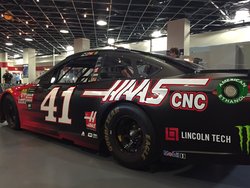 Lincoln Tech is opening the Gene Haas Center for Advanced Automation on Tuesday, with a hand from Haas Automation and NASCAR's Stewart-Haas Racing. Indianapolis is the third Lincoln Tech campus to get such a training center, behind campuses in New Jersey and Texas. 
Indianapolis is ideal for the CNC training center, said Lincoln Tech and Haas officials, due to its large manufacturing base and its history as a racing hub.
The center, school officials said, will help train thousands of students on how to operate computer numerical control (CNC) milling machines to make parts that go into myriad machines, including NASCAR race cars.
Busch's Ford Fusion will be on display to showcase the many CNC-machined parts that go into a NASCAR car.    
The Gene Haas Foundation is providing $500,000 in scholarship funds over the next two years to the Lincoln Foundation for Education to help train CNC students at all of its schools nationwide that offer CNC courses. 
Gene Haas is a principal in Stewart-Haas Racing, which fields a car for Busch as well as former IndyCar star Danica Patrick, and Haas Automation, a California-based CNC machine tool company.
"Our CNC program graduates about 50 students annually in Indianapolis and over 200 throughout our system," Scott M. Shaw, Lincoln Tech's president and CEO said in a statement. "In the next seven years, almost 50,000 jobs are expected to become available to CNC certified technicians—including 3,500 in Indiana.  
"CNC manufacturing is one of the 20 fastest-growing career fields in Indiana with a projected growth rate of 30 percent by 2024," he added. "We are looking forward to growing the CNC program as we educate people about the growth potential of the industry while also playing an integral role in bringing manufacturing jobs back to the U.S."
Lincoln's 126,473-square-foot campus at 7225 Winton Drive offers training in automotive technology, CNC machining and manufacturing, collision repair and refinishing, diesel technology and electrical/electronics. Based in New Jersey, Lincoln currently has 23 campuses in 14 states.
Please enable JavaScript to view this content.