It's not uncommon for athletes, entertainers and others who might quickly amass tens of millions of dollars in their 20s and 30s to invest in restaurants and real estate. Former Indiana Pacers big man Antonio Davis was among that crowd, mostly investing in properties when he retired from the NBA in 2006.
But real estate was volatile, he said, and he later discovered he could invest in other parts of the real estate development process—including construction companies building the properties.
In fact, there's a whole class of medium-sized companies looking for capital that would make great investments. So Davis has teamed up with some other former NBA players to help connect players and entertainers to some of them.
"Joel Embiid [of the Philadelphia 76ers] just signed a $150 million deal, so it's got to the point where athletes can take care of their family, their family's family," said the 6-foot-9 former Pacer, whose team made the Eastern Conference finals in four of the six seasons he played in the 1990s.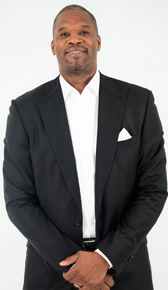 Antonio Davis is managing partner for Playbook Investors Network (Image courtesy PIN)
"But we got to start thinking about how we make change—how we create jobs, how we change the way other athletes use their money and leave a legacy," he said.
Davis is part of a venture called PIN—Playbook Investors Network. It's a business education and investment platform that connects high-net-worth investors with growing companies—specifically minority-owned supplier businesses that have contracts with major corporations.
PIN is officially launching in Indianapolis on Wednesday, a city it chose because of its relationship with the Mid-States Minority Supplier Development Council, which is headquartered here. It plans to expand to cities in 11 other states.
Although PIN is a web-based platform, it will have local relationship managers for companies in each of the selected cities.
Davis is managing partner. The founder and CEO is Rodney Woods, a Dallas-based entrepreneur whose connections in the sports and minority-supplier industries helped him conceive the idea nearly a decade ago. Other members of PIN's executive leadership team include seven-time NBA All-Star Tracy McGrady, NFL running back Damian Williams, three-time Olympian Darvis "Doc" Patton and business executive Jesse McRae.
"We have a lot of liquidity as athletes and entertainers, but we don't own anything," Woods said. "We don't own the manufacturing plants making Adidas or Nike. We don't own the car manufacturing companies. We might own a car wash or a car dealership or a restaurant, but we don't own companies making these major commodities."
At least initially, PIN aims to target minority-, women-, veteran- and LGBTQ-owned enterprises. Its website has an educational component, with online resources for business planning and tips for presenting one's company to potential investors. It also educates investors on how to engage and assess minority-owned businesses.
The idea is to position these companies for investment partnerships with institutional, corporate and private investors. Woods said besides individual accredited investors, PIN also has access to about 10,000 institutional investors through Independent Investment Bankers Corp. and several family investment offices on the platform looking to invest in minority vendors. He also has banks on the platform that have community development funds specifically targeted to minority businesses.
"Deal flow is what the [investors] need," Woods said. "These family offices have money up to their chest and they have to deploy it, and what we're doing is making it easier."
The network also is designed to provide investing opportunities to athletes and other entertainers.
"There comes a time when earning large sums of money solely based on their talent slows down or comes to an end," Woods said. "PIN gives them the contacts, information, training and business development prowess to compete in the marketplace and even build upon the wealth and lifestyle they cultivated in their careers."
Carolyn Mosby is president of the Mid-States Minority Supplier Development Council, which has 230 certified business members. There are 23 such councils around the U.S., representing about 12,000 companies. Its goal is to help position minority suppliers for contracts from companies like Eli Lilly and Co. that have minority purchasing goals. It is helping serve as a conduit between PIN and its minority business members.
Mosby said she first spoke with Woods about the idea during the 2012 Super Bowl in Indianapolis.
"He was telling me about this initiative he was working on around helping minority businesses find access to capital, but also working with athletes and entertainers, introducing them to the world of supplier diversity," Mosby said.
She added that PIN creates an opportunity for a win-win on both sides, especially since many minority suppliers have trouble accessing traditional financing.
Woods, 56, spent 20 years in law enforcement, including stints with the Dallas Police Department and FBI. As CEO of Diversity in Promotions, a company he started in 1999, he made a name for himself connecting athletes to corporations for various business events. His clients have included Toyota, Victoria's Secret PINK, Adidas, General Motors and Walgreens.
He learned about the world of minority suppliers by first being one.
Davis, 48, said he's known Woods for more than a decade, but decided to help advance PIN about three years ago.
Davis said one of his goals with PIN is to help athletes expand their horizons about ownership and what makes a good business deal. He said athletes in particular may get starry-eyed from major sneaker or endorsement deals, but the money the athletes see is only a limited slice of the potential revenue the deal could generate.
"Don't say you're my partner if you're only giving me 5 percent or 10 percent," he said. "We ain't partners—you're using me. You're giving me a fee for my name and my face."
On the other hand, he said, investments in assets including small and medium-sized businesses allow them to participate in the upside.
Woods said owning firms that make everyday goods may not be sexy, but he believes it can be with the right investors.
"Let Tracy McGrady or James Harden or Steph Curry own a company that's making doorknobs. Or let's say LeBron James and Dwyane Wade or Derrick Rose own a manufacturing plant doing nutraceutical products, I guarantee you people will notice."
Please enable JavaScript to view this content.