After three years of television viewership increases, the IndyCar Series this season saw the number of eyeballs decline.
The 11 percent year-over-year decrease comes at a bad time for the open-wheel racing series, which is looking to sign a new media/TV deal in the coming months and recently learned that series sponsor Verizon is dropping out after the 2018 season.
The open-wheel series' contracts with ABC/ESPN and NBC are set to expire following the 2018 season. IndyCar failed to sign an agreement with ABC and NBC Sports Network during an exclusive bargaining period earlier this year.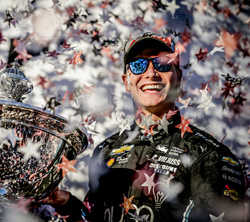 IndyCar hopes 2017 series champion Joseph Newgarden can help attract more viewers. (Photo by Shawn Gritzmacher, courtesy IndyCar)
Now IndyCar is shopping the series' media deal on the open market, and is looking for a higher price tag than its current deal.
IndyCar and its broadcast consultant, New York-based Bevilacqua Helfant Ventures, this summer said they believed they were on firm footing in asking for a more lucrative deal. They pointed to a more than 35 percent increase in the series' TV ratings from 2013 to 2016 and growing live attendance.
IndyCar officials have told IBJ they still could look to re-up with NBC and/or ABC or could look for another—possibly nontraditional—partner. IndyCar officials said looking at potential candidates such as Google and Amazon is not out of the question.
The most recent ratings certainly won't help drive up the price of the deal, although this season could be seen as a one-year blip and might not have a huge impact one way or another.
This season, an average of 1.14 million viewers tuned in to each of the 17 IndyCar Series races, according to Nielsen Media. That's down from an average audience of 1.28 million that watched each of 15 races last season.
This year's average is down only slightly from the 1.16 million that watched in 2015, but up from the 1.03 million average of 2014 and 953,000 that tuned in on average in 2013.
On the bright side, the series' viewership across 12 races on NBC Sports Network were up 3 percent over last year to more than 502,000 viewers per race, according to Nielsen. According to Nielsen data, that's the second-most-watched IndyCar season on the cable network. That could mean the series' hard-core fan base is growing, which would be a positive sign.
IndyCar's current 10-year deal with NBCSN started in 2009.
Despite the overall decline in TV viewership and the impending loss of Verizon as the series' title sponsor, Mark Miles, CEO of IndyCar parent Hulman & Co., remains bullish on the series.
"We had a fantastic year," Miles told IBJ. "We had close, competitive racing and we crowned a great, new champion. I think there's a lot to be really excited about going forward."
He touted the series' new champion, 26-year-old Josef Newgarden, as a key player in the series' efforts to attract audiences. He also pointed out that overall attendance across all races was up this year over last—excluding the Indianapolis 500.
The 2016 Indianapolis 500 was the race's 100th running and drew a massive crowd of 350,000. This year's race drew an estimated 300,000—or maybe slightly less depending on whom you ask—which was considered a victory in a year after such a major anniversary.
The IndyCar Series doesn't release attendance figures.
Please enable JavaScript to view this content.