First a life-sized statue and now a wine.
The Indianapolis Colts are not done celebrating Peyton Manning just yet.
This week, the Colts poured out plans to create a wine to celebrate their former star quarterback.
The Colts are partnering with Wine By Design, a New York-based marketing and management agency with operations in Napa Valley, and Maison Noir Wines, an Oregon-based winemaker, to develop Ring of Honor Wine. 
The bottles will be adorned with a large Colts horseshoe logo, under which will appear "Ring of Honor" and the number 18. Under that, "Lucas Oil Stadium 10.08.17" is inscribed, noting the place and date Manning was enshrined in the Colts Ring of Honor.
The production of the Manning-branded wine is part of a three-year deal the Colts signed with Wine By Design this fall. Starting with the Ring of Honor release, Wine by Design will develop a commemorative wine each season, designed to create a yearly collectible for Colts fans.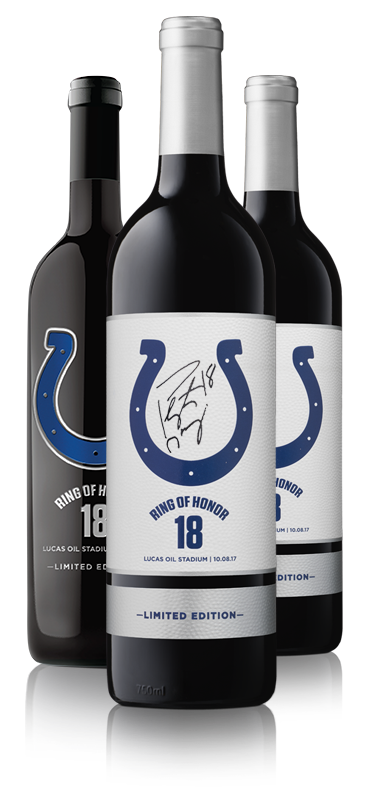 The deal comes a year after the Colts partnered with Wine By Design on a wine celebrating the 10th anniversary of the Colts' 2007 Super Bowl triumph.
A bottle of the new No. 18-branded wine costs $19.95 per bottle. Plus, there are a limited number (62) of bottles emblazoned with Manning's autograph. Those go for $400. There are also a limited number with the blue Colts horseshoe emblazoned on the bottle. Those sell for $49.95.
According to information released by the Colts and Wine by Design, the wine will be a red wine blend using grapes grown in the Columbia Valley in Washington. For a list of local retailers or to purchase the wine online, visit Colts.com/wine.
Last year, the Colts and Wine By Design produced 2,000 cases (24,000 bottles) of the Super Bowl celebration wine. This year, they are producing 1,600 cases (19,200 bottles) of the Manning-branded wine.
"With the success of our 10th anniversary wine last season honoring the Colts Super Bowl XLI victory, this year we wanted to give fans the chance to pay tribute to Peyton Manning himself with a one-of-a-kind commemorative wine celebrating, not only his induction into the Colts Ring of Honor, but his phenomenal 18-year career," Colts Senior Vice President of Business Development Matt Godbout said in a written comment.
"We continue to see this exciting shift to wine consumption, which includes the sports fan," Wine By Design CEO Diane Karle said in a statement.. "With our extensive network of winemakers and industry experts we are looking forward to bringing Colts fans premium wines and experiences, as wine and food becomes a mainstay pairing at tailgates." 
Please enable JavaScript to view this content.