The Indiana Pacers on Tuesday unveiled the name and logo of their fledgling esports team, which will be one of 17 squads competing in the debut season of the NBA 2K League next year.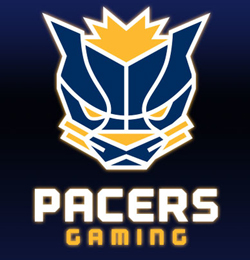 The team has been dubbed Pacers Gaming, and the logo (see image at right) is a stylized portrait of team mascot Boomer.
NBA 2K is a video basketball simulation with gameplay that simulates a typical game of basketball. For league play, the Pacers Gaming team will field a roster of five players who will be selected from a pool of some of the world's best gamers via the league draft in March.
The NBA 2K League season is expected to tip-off in May. With regular five-on-five games between franchises, the league is intended to mimic an NBA season, including staging playoffs and crowning a champion.
"We are very excited to be among the first NBA teams to join the NBA 2K League," Pacers owner Herb Simon said in a media release. "This is a great opportunity for us to get in on the ground floor of a fast-growing esports industry. I'm proud that our league is the first league to get into this exciting new world of professional esports competition."
Pacers Gaming will be the fourth team in the stable of Pacers Sports & Entertainment, joining the NBA's Indiana Pacers, WNBA's Indiana Fever, and the Fort Wayne Mad Ants of the developmental G League.
IBJ reported last month that Kelly Krauskopf, current president of the Indiana Fever, will serve as the primary leader of Pacers Gaming. In September, PS&E hired Evansville native Robert Parrent as its director of esports operations.
Professional sports teams over the last five years have been angling for a way to become more involved in video gaming. NBA officials think it's a good way to cultivate new fans and market their sport to the growing legion of esports fans. And it also could represent a new revenue stream.
In the last decade, esports has become a global sensation.
In the United States, Staples Center in Los Angeles and Madison Square Garden in New York have hosted events.
In southern Poland, the 2017 Intel Extreme Masters World Championship drew 173,000 spectators over five days in February and March. That's an average daily crowd of nearly 35,000.
Esports will be included in the 2018 Asian Games. And the International e-Sports Federation, a South Korean organization, has received a response from the International Olympic Committee outlining the process to allow esports to be recognized as an Olympic sport. IOC officials said esports could be part of the 2020 Olympic Games in Tokyo.
Newzoo, a San Francisco-based esports, gaming and mobile communications research firm, estimated the esports global market will hit $696 million this year, a 41 percent increase over 2016.
Please enable JavaScript to view this content.