Longtime south-side barber Tom Bryant this fall sold his barber shop and adjoining property along Shelby Street to the University of Indianapolis. Bryant's Barber Shop officially closed in early December after more than five decades in the same location.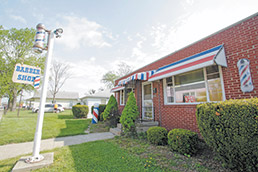 Bryant's Barber Shop operated just south of Shelby Street and Hanna Avenue from 1969 to earlier this month. (IBJ Photo/Lesley Weidenbener)
But no one would accuse Bryant of fleecing the school. In fact, the 72-year-old has agreed to give $100,000 back to UIndy, dedicated specifically for its swimming program.
He credits the program with saving—or at least extending—his life.
UIndy plans to build housing on the land, which stretches to the corner of Hanna Avenue and is a stone's throw from the main campus buildings. Financial terms of the sale of Bryant's land and buildings were not disclosed.
Bryant, who has been cutting hair for 57 years (53 years at the building he just sold) says he has no plans to retire. He'll now cut hair out of his house—likely more on a part-time basis. 
He's been swimming in the school's pools for 35 years. Bryant comes from something of a swimming family. His daughters, Pam and Denise, were on Southport High School swimming and diving teams in the 1980s.
For Bryant—a life-long southsider and 1963 Southport High School graduate, swimming in the UIndy pools has been a life-altering activity. That's one of the big reasons he gave a portion of the money the school paid him for his property back to the university, he said.
"That exercise has helped save my life," said Bryant, who still looks like he could swim a few fast-paced laps. "I don't know where I would be if I hadn't done all that swimming. That exercise has really been good for me."
That good health helped Bryant continue the tradition his father started more than 80 years ago. There's been a Bryant Barbershop in Indianapolis since 1929, when his dad first opened his barber shop at Washington and State streets in 1929.
While his landmark barbershop is going, Bryant said he'll cut hair "as long as I can hold a pair of scissors."
Please enable JavaScript to view this content.