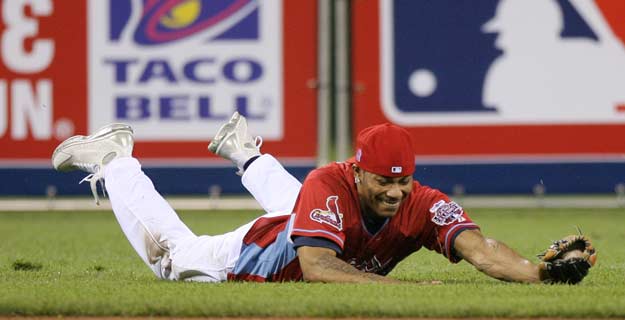 Whether he ever gets another job as a basketball coach remains to be seen, but Bob Knight is still The General.
During an exhibition softball game played in St. Louis in conjunction with the Major League Baseball All-Star game, the former Indiana University and Texas Tech basketball coach, took matters into his own hand. The game aired last night on ESPN.
Knight, who displayed a solid fielder's glove at first base, delivered a motivational speech to his team, which was trailing late in the game. Spurred by The General's battle cry, Knight's team rallied for a 10-8 victory.
Knight, true to his form, even argued with an umpire. But this time, it seemed to be a little more like good-natured ribbing.
"You can't expect officials to be correct all the time," Knight said. "But this time, he did a great job making the right call."
Even more amazing was the friendship that kindled between Knight and rap star and actor Nelly, a St. Louis native who clubbed a two-run homer and made a diving catch in center field. The two teammates laughed together and generally buddied around during and after the game. They even shared co-MVP honors.
"He made that first play, and I said, 'That guy knows what he's doing out there,'" Knight said of Nelly.
Nelly returned the compliment as the two were being interviewed by ESPN's Erin Andrews, quipping, "Coach Bob Knight, he can handle himself over there at first base."
To follow The Score on Twitter: http://twitter.com/ibjthescore.
Please enable JavaScript to view this content.