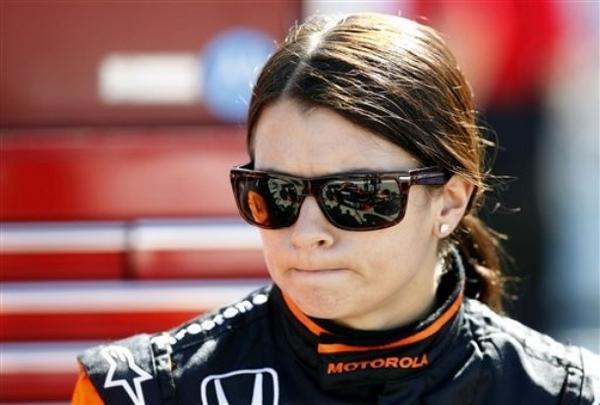 A Danica Patrick-Tony Stewart partnership. How long before some kind of volcanic reaction? It's enough to make the media salivate. Sponsors are already chomping at the bit.
It's true, Patrick was in the land of NASCAR early this week touring the swanky digs of Stewart/Haas Racing.
The possibilities for all concerned are quite intriguing—and no doubt potentially lucrative for Stewart and Patrick. The First Lady of the Indy Racing League would bring lots of attention and buckets of sponsorship money. On-track success, now that's another question entirely.
Patrick would be wise to take up Chip Ganassi's offer and stay in the IRL—for at least a few more seasons. And this is why. The absolute best thing Patrick could do for her career—and her legacy—is to become the first woman to win the Indianapolis 500. And we all know egos like Patrick think often about their legacy.
No matter what you think of Patrick, you have to admit this; She can run up front at the famed Brickyard. She already has. She can even lead what many still call The Greatest Spectacle in Racing. With Ganassi's horse power, I think she can win it. After all, the Indianapolis 500 may be a great spectacle, but it's not necessarily the greatest barometer of a driver's skill.
If Patrick leaves the IRL now, she'll find she will soon abdicate her throne as the best woman driver in open-wheel history. Whether its Indy Lights star Ana Beatriz or an older vet like Katherine Legge or a driver we haven't heard of yet (I keep hearing of a young teenage Filipino girl who can drive the wheels off a car), someone sooner rather than later will give a capable woman the right car and chassis combination to win at Indianapolis—and that will be a first the history of motorsports will never forget.
And Patrick will learn this hard lesson: Star personalities like hers come and go. Riches can never really buy happiness and contentment—especially not for a high-level achievement-oriented athlete. Youthful looks fade. And her cover girl image will never, ever appear on the side of the Borg Warner Trophy alongside some of the greatest race car drivers the world has ever known.
To follow The Score on Twitter: http://twitter.com/ibjthescore.
Please enable JavaScript to view this content.