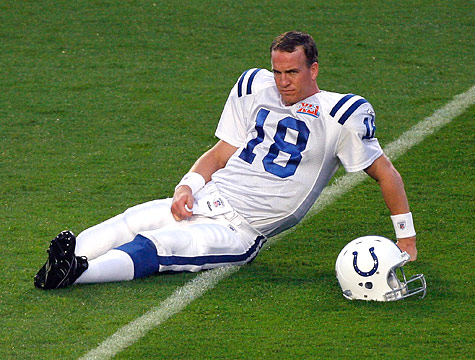 The folks running the National Football League are iron-fisted guardians of the game—and apparently sticklers for details.
Most recently, the NFL mafia has dropped the hammer on the athlete formerly known as Chad Johnson, who wants to Tweet during games. The league said absolutely not. The athlete (not to be confused with The Artist) is threatening to Tweet anyway.
Listening to Tom Zupancic, Indianapolis Colts senior vice president of sales and marketing, this week makes me realize how Gestapo-like the NFL is.
When Zupancic was the strength and conditioning coach, he was in charge of making sure all the Colts players uniforms fit game-day protocol. This is how it went—and still goes for that matter.
When the Colts players came out for game-day warm-ups, the officiating crew would take a close look at all the players, and make a list of anything big or small that went against the NFL's dress code.
A few things—like defensive linemen spraying silicon on their jerseys—had to do with unfair competitive advantages. Most of the issues were cosmetic.
The list was turned over to Zupancic, and after the players returned to the locker room for last minute coaching insturctions, he went to every one on the list to tell them what the problem was and how to fix it.
"I'd tell one player to pull up his socks or another to tuck in his jersey or another that his wrist band wasn't placed right," Zupancic said. "Sometimes we'd have to tape over a logo on a pair of shoes."
Despite the Colts recently selling a sponsorship patch on its practice jersey to Indiana Farm Bureau this year, Zupancic doesn't think that will ever spread to game-day uniforms.
"I just don't see that happening in the foreseeable future," he said. "They're just so protective of the integrity of this game."
To follow The Score on Twitter: http://twitter.com/ibjthescore.
Please enable JavaScript to view this content.