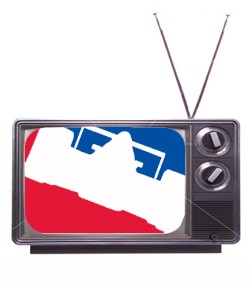 Indy Racing League TV ratings aren't exactly burning rubber, but they are accelerating.
Sunday's race at Toronto, which started at 1 p.m., earned a 1.0 rating, which equates to 1.1 million television households nationwide, according to Nielsen Media Research. That's higher than the .87 national rating the race at Watkins Glen earned a week earlier. Start times were the same and both aired on ABC.
The Toronto race also beat the national ratings for the IRL's races in Milwaukee (.6) on May 31 and Iowa (.8) on June 21 (which both aired on ABC), making the Honda Indy Toronto the most watched race of the year, not including the Indianapolis 500.
The national rating for the Honda Indy Toronto was double what Sunday's Formula One race earned, starting at 3 p.m. on Fox. According to Nielsen, the German GP earned a .5 rating, with 628,000 TV households tuning in.
In Indianapolis, the IRL's Toronto race earned a 3.3 rating, with 37,000 TV households watching. That was higher than the 2.74 (31,000 TV households) the Watkins Glen race tallied locally. Sunday's F1 race scored a 1.6 rating (18,000 TV households) in the Indianapolis market.
Honda Indy Toronto was the IRL's last of five races on ABC. The remaining seven races will be broadcast on cable channel Versus, starting with the Edmonton race July 26. The green flag drops at 5 p.m.
Versus has been promoting the race heavily during its Tour de France coverage this month. With Lance Armstrong's return to the Tour and ratings for that event on the rise, it could mean an increase to the meager cable ratings the IRL has earned so far this season.
Please enable JavaScript to view this content.