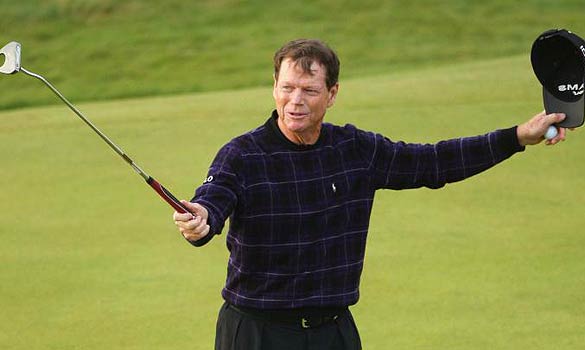 Tom Watson's near British Open Victory yesterday has sent ticket sales skyward for the U.S. Senior Open hosted by Crooked Stick Golf Club in Carmel July 27-Aug. 2.
Watson will be one of the headliners of the local event, and organizers are planning a new round of advertising featuring the 59-year-old British Open runner-up.
"We've seen a huge spike in our Web site traffic, and we're starting to get more phone inquiries," said Max Novena, the event's director.
In a great understatement, Novena said, "This is certainly a stroke of good luck." Novena and his staff started preperations for this event nearly three years ago thinking it could be one of the biggest, most profitable U.S. Senior Opens in history. Then the bottom fell out of the economy. Now, Watson has put the wind back in their sails (and sales).
Novena said his staff today is updating the event's Web site to feature Watson more prominently, and will place a large ad in the Indianapolis Star tomorrow congratulating Watson, who lost the British Open in a four-hole playoff with Stewart Cink.
Watson, Hale Irwin and Greg Norman have been the at the center of marketing materials up to this point, Novena said, and now Watson will take a more prominent role. This week, Watson plays in the in the British Senior Open, and a good performance there could boost interest even more.
Novena thinks Watson's recent success will bring golf fans from around Indiana and beyond to Carmel next week.
"What Tom Watson did at the British Open is remarkable, and shows he really does still have game," Novena said. "He plays a very limited schedule, maybe 10 events a year, and he's in our field. So we think this has the potential to be a very special event here."
Attendance is already projected to be 150,000 for the three days of practice and four-day tournament. With Watson's success at the British Open, sports marketers think that could increase by at least 15 percent.
Please enable JavaScript to view this content.