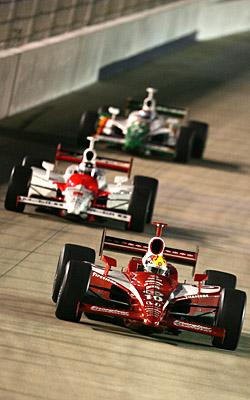 The Indy Racing League is expected to unveil its 2010 schedule as early as this weekend, but a few interesting tidbits have already leaked out.
It looks like an 18- to 20-race slate next year with the definite additions of races in Brazil and at Barber Motorsports Park near Birmingham, Ala. The race in Richmond could be off the schedule unless a sponsor for the event can be found. It looks like there will be 10 oval races.
Though the IRL has made few official statements about its schedule, it appears the season will open the second week of March in Brazil. That race could be followed by a late March race in St. Petersburg. The Alabama race will be April 9-11, with Long Beach the following weekend.
There may be an oval race in late April—right before Indy opens up. That race could be in Kansas, but track officials there are still pursuing a second NASCAR Nextel Cup race. If that happens, the IRL can say so long to the land of Oz.
The month of May in Indianapolis will open May 9, with pole day on May 15 and the race May 30. The IRL likes to host a race the week after Indy, but it's still not clear if that will happen. The series could roll into Milwaukee or Iowa that weekend.
The series will swing through Canada in July for consecutive weekend dates in Toronto and Edmonton. A race in New Hampshire could be added at the end of July, though that deal is not yet finalized.
Late summer/early fall dates in Mid-Ohio, Infineon, Chicagoland, Kentucky and Motegi (Japan) look likely. Watkins Glen could be run in late September with Miami possibly slated for early October.
To follow The Score on Twitter: http://twitter.com/ibjthescore.
Please enable JavaScript to view this content.