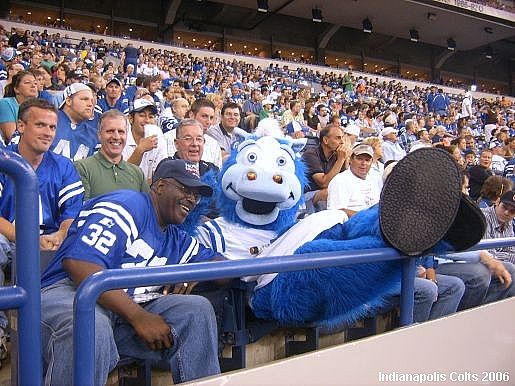 The Indianapolis Colts have a new sponsorship deal, and fans have a new game-day attraction to anticipate at Lucas Oil Stadium.
The Indianapolis Colts recently signed a three-year sponsorship deal with Carmel-based James Allen Insurance Brokers to become one of the primary sponsors at Lucas Oil Stadium.
Financial terms of the deal were not disclosed, but the insurance agency will replace Chevrolet as one of the team's 14 founding partners at the 63,000-seat stadium. As an aside, the Colts also recently signed a deal with Toyota to replace Chevrolet as the team's official car. Chevrolet had been a Colts sponsor since the team moved to Indianapolis in 1984.
Gone from southwest corner of Lucas Oil Stadium's street level is the Colts-themed Chevy truck. It will be replaced by an area themed for Allen Insurance.
"We always wanted a major presence in a venue in downtown Indianapolis," said James Allen Insurance CEO Tim Craig. "This gives us another branding opportunity, and puts our name out there further to the insurance agencies and business owners that use our company. We also do underwrite policies directly to the public, so the exposure to fans is great too."
It's true, insurance might not be the most exciting thing when it comes to the type of interactive displays the Colts have sought for stadium sponsorship deals. Fear not. Indianapolis-based MainGate, which runs the Colts pro shop at the stadium, has agreed to operate a kiosk in the quadrant.
MainGate is offering customized Colts jerseys, printed on-site with the name and number of the customers' choosing. So you can have a Colts jersey with your very own name on it. Colts officials said jerseys ordered by kick-off will be printed and ready for pick-up by the end of the game, and maybe by halftime. The price of the jersey will be in the $100 range.
To follow The Score on Twitter: http://twitter.com/ibjthescore.
Please enable JavaScript to view this content.