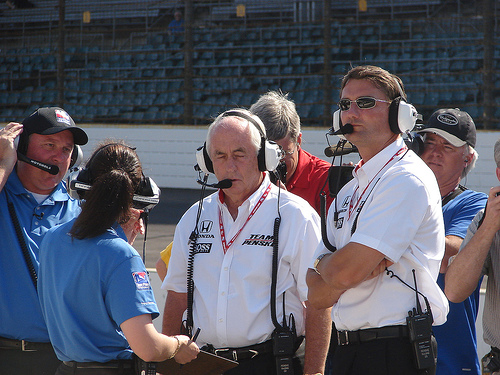 Terry Angstadt, president of the Indy Racing League's commercial division, admits the search for a series title sponsor has been up and down. "It's been a bit schizophrenic," he told IBJ recently.
The heat from the series' teams to get a deal done has been ratcheting up despite the lagging economy.
"The on-track product, I think as you saw at Kentucky, is good," said Penske Racing President Tim Cindric, shown above, right with his boss Roger Penske. "It comes down to promotion and perception. We need someone in the mainstream who believes in the series, and I think the perception will change. The popularity of any sports property has a lot to do with the marketing dollars behind it."
Angstadt said he has heard the message, and league officials are making progress. He points out that series sponsorship revenue this year is up "six fold" over last year and that elusive title sponsor may be at hand.
"You've caught me on a good week," Angstadt said. "We are talking to a company that is in the third stage of consideration. We're darn close to being able to get that [title sponsor deal] done. The company we're talking to is a big consumer brand, and it would be very good for the series."
Angstadt added that it's still too early to start celebrating, but he is hopeful a title sponsor will be in place for the 2010 season. Cindric doesn't want any more excuses—including the economy.
"It's certainly a challenging time, but there are opportunities in challenging times," Cindric said. "Ask my boss about that. He's out there buying car companies."
To follow The Score on Twitter: http://twitter.com/ibjthescore.
Please enable JavaScript to view this content.