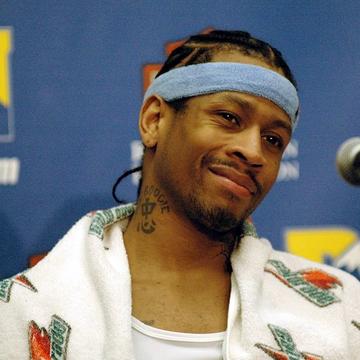 How desperate are the Indiana Pacers to sell tickets? Allen Iverson might be The Answer. The 34-year-old guard is available and some NBA insiders say the Pacers could use his scoring punch alongside Danny Granger.
Iverson's agent, Leon Rose, has indicated Iverson could be signed to a one-year deal worth $5 million to $6 million. Even in this economy, that's not exactly break-the-bank money. If Iverson could boost attendance by an average of about 2,500 per game, revenue from those ticket sales alone would pay his salary.
The Oklahoma City Thunder, Miami Heat and Houston Rockets are reportedly among teams that are interested.
True, the Pacers in July signed guard Earl Watson to a one-year deal for about $3 million to fill the back court need. Pacers' chief of basketball operations Larry Bird said at the time that while Iverson was available, Watson is best for the team's needs.
What this team needs most is to sell tickets, and Iverson—controversies or no—does that. Iverson also might be enough to push the Pacers into the seventh or eighth playoff spot in the East, and no one is hungrier to win that Bird, who was unavailable to comment today.
In the last three weeks, speculation has intensified that Iverson could don the blue and gold. But Pacers executives are keenly aware how important image is to Indiana fans, so they won't take lightly the habits of a man who once had a press conference tirade when asked about his practice habits.
To follow The Score on Twitter: http://twitter.com/ibjthescore.
Please enable JavaScript to view this content.