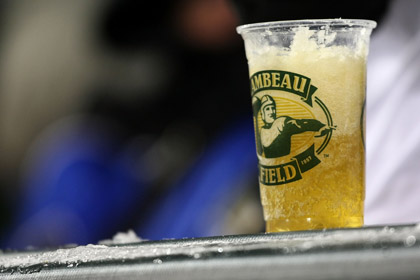 The National Football League and stadium operators are sending a strong anti-drunk driving message to fans this year as part of an effort to expand the league's one-year-old Fan Code of Conduct program.
The NFL is asking companies that operate concession stands at the 31 stadiums that host league games to begin distributing beer in cups emblazoned with the message "Fans Don't Let Fans Drive Drunk."
Colts Senior Executive Vice President Pete Ward said the team and its stadium partner—Connecticut-based Centerplate Inc.—have no problem complying with the league's direction.
"It's something that the league has been emphasizing and we fully support," Ward said.
In fact, the Colts for several years have emblazoned beer cups sold at their venue with the message "Always designate a responsible driver," Ward said.
But environmentalists, fear not. There will be no cups needlessly thrown out in the making of this statement. Ward explained that the current stock of cups with the old message will be used until they are all gone, and then they will be replaced with cups with the new message.
"You'll probably start seeing the new message [on cups] about mid-season," Ward said.
The original idea to put the uniform anti-drunk driving message on cups at NFL venues came from TEAM Coalition, an industry group advocating responsible alcohol consumption. And while printing the message on cups will cost beer vendors a little more, teams and beer vendors have agreed to take on the expense.
TEAM Coalition Executive Director Jill Pepper said all 32 NFL teams, stadium operators and beer companies are all on board with the campaign.
To follow The Score on Twitter: http://twitter.com/ibjthescore.
Please enable JavaScript to view this content.