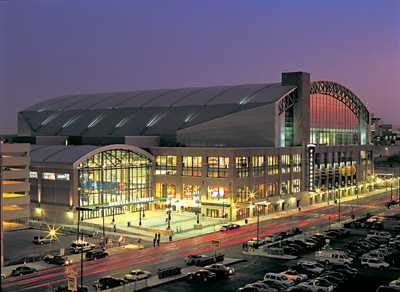 The cityâ??s Capital Improvement Board, which owns Conseco Fieldhouse, is still trying to figure out what to do about the
Indiana Pacers' request for financial aid to the tune of $15 million for the upcoming year.
The money is not allocated in the CIB budget approved by the City-County Council earlier this month, but the issue is not
dead yet.
â??Weâ??re dealing with things one at a time,â?? said CIB member Pat Early, who has been the point person in dealing with the Pacers.
â??To say absolutely, positively, the Pacers are on their own is not an accurate statement. As we work through this, we are
hopeful we can be creative.â??
Iâ??m not sure what â??be creativeâ?? means, and Iâ??m not sure Early does either. But Early added that thereâ??s no thought that the
financial problems facing the small market Pacers â??will simply go away.â??
â??The Pacers are desperate to seek solutions to get themselves closer to break even,â?? Early said. â??Weâ??re not closing the door
on anything.â??
Early gave no indication where the funds would come from, but he did say the possibility of the Pacersâ?? folding or moving
if this situation isnâ??t eventually addressed is a real one. He said the teamâ??s ownership has not made any threats or comments
about moving or folding the franchise, but the teamâ??s financial challenges dictate city leaders consider that possibility.
â??Then we still have all the costs associated with owning and operating that facility and no one left to occupy or operate
it,â?? Early said.
Forbes magazine estimated the Pacers lost $6.5 million last year, $1 million in 2007, and $12 million in 2006, but Pacers
officials have said their losses are far greater than that, with financial losses coming in nine of 10 years at Conseco Fieldhouse.
Please enable JavaScript to view this content.