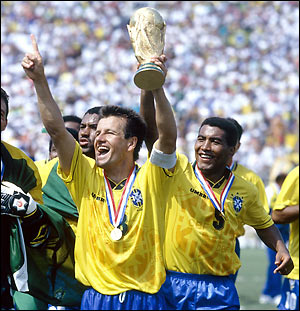 Eleven sites were cut from consideration for the United States' 2018 and 2022 World Cup Soccer bid, but Lucas Oil Stadium
is still in the hunt.
It would be no small prize if Indianapolis was part of a winning bid. Lucas Oil Stadium, which will be configured to seat
64,200 for soccer, would host between three to six games. Sports business experts predict those games would sell out, given
the ticket sales history of the 1994 World Cup, which was the last time it was held in the U.S. The economic impact of those
games would be more than $100 million for Indianapolis, sports economists said.
But it's still a long way from a done deal. The list yesterday was cut by the USA Bid Committee from 38 to 27 possible host
cities that passed the third stage of the proposal review process.
â??The overwhelming interest and creativity shown by the candidate cities made our extensive review process that much more
difficult
in narrowing down the list,â?? said Sunil Gulati, USA Bid Committee chairman.
Officials from candidate host cities had from June 16 to July 29 to complete their proposals. The request for proposals sought
information covering an array of subjects such as tourism, climate, security, transportation, training sites and promotion.
â??We were very excited to get through this round,â?? said John Dedman, spokesman for the Indiana Sports Corp., which is leading
the bid process for Indianapolis. â??The size and flexibility of Lucas Oil Stadium, and the potential to have either outdoor
or indoor games is a big reason weâ??ve gotten this far.â??
Nine nations including the U.S. are vying for the 2018 World Cup and two moreâ??for a total of 11â??are gunning for the 2022
World
Cup. If the U.S. wins the bid for either of those years, 10 to 12 venues would be needed to host the games.
FIFA, soccerâ??s world organizing body, plans to conduct site visits next year and have a decision made by December, 2010.
Other U.S. cities still in contention to be part of the bid include Atlanta, Boston, Dallas, Denver, L.A., Phoenix, St. Louis,
Tampa, Seattle and Washington D.C.
The cities that did not make the cut were Birmingham, Ala.; Cincinnati and Columbus, Ohio; Fayetteville, Ark.; Knoxville,
Tenn.; Las Vegas, Nev.; Minneapolis, Minn.; New Orleans, La.; Pittsburgh, Pa.; Salt Lake City, Utah; and San Antonio, Texas.
To follow The Score on Twitter: http://twitter.com/ibjthescore.
Please enable JavaScript to view this content.