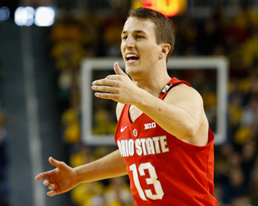 Andrew Dakich finished his college playing career at Ohio State University, where he now is a graduate assistant. (AP photo)
Andrew Dakich wants to follow in his father's footsteps and be a college basketball coach.
Andrew, the son of Dan Dakich, the former Indiana University player and coach and now host of a local sports radio show on WFNI-AM 1070, has taken a position as a graduate assistant coach at Ohio State University under Chris Holtmann. OSU says the two-year Master of Sports Coaching program is "designed to develop high-quality graduates who possess an excellent understanding of coaching."
The elder Dakich spent 10 seasons at Bowling Green State University in Ohio, where from 1997 to 2007 he compiled a 156-140 record before coaching seven games the following year at Indiana University as an interim coach.
Before that, Dan was a graduate assistant coach at IU under Bob Knight, from 1985–87, and then an assistant coach from 1987 to 1997.
Now his son is starting down the same path.
"I think it's awesome," Dan said. "He has a real good sense of people and I think a terrific basketball IQ. He's always gravitated to a leadership role, and I think coaching's perfect for him."
Andrew, 24, played high school basketball at Zionsville and college at the University of Michigan before transferring to Ohio State for his fifth and final season of eligibility (2017). In his last year he played in 34 games and averaged 3 points per contest.
Andrew's first day as a graduate assistant coach was Monday, so he's not quite sure what to expect yet. But he's "95 percent" sure he wants to become a college basketball coach.
"I've always had a sense of the game," he said. "I've been around it my whole life. It just felt right."
Holtmann, Ohio State's head coach, also arrived on the campus in 2017, leading the Buckeyes to a 25-9 record in his inaugural season. He previously spent three seasons at Butler, where he compiled a 70-31 record and took the Bulldogs to the NCAA tournament all three years.
Andrew said he's eager to learn under Holtmann's tutelage.
"He was new to Ohio State just like I was," Andrew said. "He's done a great job at adapting."
Please enable JavaScript to view this content.