Keith Reissaus is a career human resources executive with a keen knowledge of workplace wellness and benefits initiatives.

That's typical of most anyone in his position, particularly given today's struggles to contain the rising cost of health care. But how did the benefits director of a relatively small not-for-profit, Goodwill Industries of Central Indiana Inc., ascend to become next in line to lead the board of a high-powered national health care advocacy?

Simply put, he's one of the sharpest people in the benefits realm and has pulled off remarkable wellness results with a difficult population of workers at Goodwill. He did it by creating incentives to get employees interested in health—and ultimately saved the organization $2 million in preventive and direct health care expenses within the past five years.

Already vice chairman of Washington, D.C.-based Leapfrog Group, Reissaus, 54, stands to take leadership next year of the coalition of large employers that includes GM Corp., IBM and Motorola. It rates hospitals on quality and encourages health care providers to improve upon it while keeping costs down.

While Reissaus' professional credentials are impressive, he admits that an episode about 13 years ago nearly resulting in the death of his then-12-year-old son is the real catalyst for his interest in health care.

Reissaus and his wife, Cindy, discovered that their son, now a young lawyer at a Washington, D.C., law firm, suffered from juvenile diabetes when his pancreas quit producing insulin. The problem landed him in the emergency room.

"You start asking questions when it personally affects your family," Reissaus said. "We were feeling at the mercy of the health care profession."

Yet he really only began to understand the complexities of the health care system in 2005, when Dr. Ned Lamkin recruited Reissaus to help formally roll out Leapfrog in Indiana.

Lamkin is president of the Indiana Employers Quality Health Alliance, a member of Leapfrog.

"He's a true buyer of health care, not like the great big companies that got Leapfrog off the ground," Lamkin said. "He's a more regional or local employer, and not of huge size, and therefore, more understands the issues and how to respond to them."

Founded in 2000, Leapfrog has 55 members nationwide, including Indianapolis-based Eli Lilly and Co., according to its Web site. The group also works with health insurers such as WellPoint Inc., also headquartered in Indianapolis.

A man of ideas

Reissaus, a native of Carbondale, Ill., earned a business degree in personnel management from the University of Evansville in 1977. There he met Cindy, a Brownsburg native, whom he married while still attending college.

Upon graduation, the newlyweds settled in Marion, where Reissaus began working in employee relations at the former RCA Corp.'s picture-tube plant. The couple moved to Princeton, N.J., before General Electric acquired RCA in 1986, where they remained until 1989. A five-year stint in a similar job at Kraft in Philadelphia followed before they returned to Indiana.

He ultimately met James McClelland, Goodwill of Central Indiana president, and came aboard the not-for-profit in 1998.

"Our human resources function, at Goodwill, I thought, could add a lot more value to the organization, and I knew it was going to take a different type of leadership," McClelland recalled. "He had a lot of experience and a lot of ideas."

Reissaus isn't a mere human relations director. His title is vice president of community and workplace initiatives. And he isn't in the H.R. department; he's in employee and organization development.

The unconventional titles aren't just corporate-speak. They reflect Goodwill's unusual business model.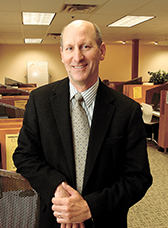 Keith Reissaus' interest in health care issues led him to become a leader of the Leapfrog Group, a national coalition that promotes improvements in the safety of health care. (IBJ Photo/Robin Jerstad)

"I needed complexity and this is a complex organization," Reissaus said. "It's a blend of a not-for-profit and a business spirit. It's social entrepreneurship."

Goodwill of Central Indiana posted revenue last year of $74.5 million. It employs 1,850 people in more than 50 retail outlets and 250 at its headquarters on West Michigan Street near Harding Street. The corporate office houses Goodwill administrators and, for the past five years, Indianapolis Metropolitan High School.

The expansion of Goodwill's charter school in 2007 bumped its commercial services operation to a 105,000-square-foot building on North Tremont Street. That building houses assembly, packing and inventory-management operations, and employs people with disabilities and others who have trouble finding work.

The demographics of Goodwill's work force are mind-boggling—from a 14-year-old unpaid intern to a 94-year-old enrolled in a seniors program.

Many times, employees transition into other jobs, intentionally hiking Goodwill's annual turnover rate to about 75 percent.

So why pay to get employees healthy if they're likely to leave in a few years? Because of the cost savings. Health insurance premiums at one time dropped 10 percent even while Goodwill began paying all costs for preventive care and reduced co-pays for some prescription drugs. Inflationary health care costs since have reduced the savings.

Good Signs, good results

Goodwill launched its wellness program in 2004 by spending $50 per worker per year on most employees who take a health risk assessment. Now it spends about $300 per worker, or about $600,000 total.

After 18 months, Goodwill was saving $2.50 in health care claims for every $1 it spent on wellness, prevention and disease management. Since April 2007, when Goodwill hired Cigna Healthcare and intensified its program, savings have reached a high of $5 for every $1 invested, Reissaus said.

Goodwill's wellness program, dubbed Good Signs, required most employees to take a health risk assessment. It asked not only about health habits, but also whether the employees wanted to change those habits.

Those who said yes—and described the habits they wanted to change—became the focus of Goodwill's wellness and prevention programming. They also got more attention from the nurses and health coaches Goodwill uses to check up on them.

Goodwill contracts with wellness coordinators and employs two full time—one who concentrates on physical wellness and another who focuses on financial and educational programs.

In 2007, Goodwill set aside $200,000 and told employees they could apply to receive some of the money in order to help them improve their health.

The first grant, of up to $6,000, was awarded in September 2007 to 12 employees at Goodwill's Greenfield retail store who submitted a proposal to lose weight and stop smoking. The grant subsidized their memberships and exercise coaching at Hancock Wellness Center.

By meeting their goals, employees can earn incentives—time off of work and gym memberships, for example.

"We can bring in better people with a better health plan," Reissaus said. "It's a competitive tool to attract top talent."

In many respects, that could be his aim next year representing Leapfrog's members.

Reissaus said it's not the organization's role to take a stand on the government's involvement in health care, or how the system should be funded.

The bigger challenges are reducing medical costs and increasing transparency, while attempting to predict how health care will continue to evolve, he said.

What Leapfrog wants most is a quality health care system, because "people should have access."•