The next time you're tooling along Interstate 465 on the west side, take notice of the girders supporting the new
21st Street bridge. You might see more of them in the future.
The experimental concrete beams are bigger than
normal and shaped like a "U" instead of the traditional "I." Think of an elongated, Paul-Bunyan-class
bathtub.
Designers specified the new style because they require less concrete and steel; only three support the
bridge, whereas a traditional design would have required six. They're also considered more aesthetically pleasing.
Invented in Texas and used in a few other states, the girders are being tried in the Midwest for the first time.
Construction on the $6.5 million bridge ended in May. It features four lanes for traffic as well as shoulders and
sidewalks.
The bridge is part of an ongoing widening and revitalization of I-465 on the west side. The project
is expected to cost $500 million.•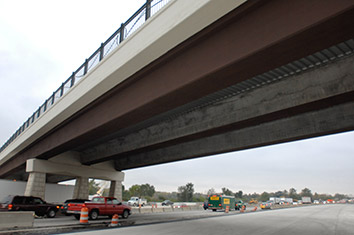 (IBJ Photo/Robin Jerstad)
Please enable JavaScript to view this content.