The Indianapolis Art Center laid off its full-time curator and cut one other position this month in an effort to pay down
short-term credit and deal with reduced income from its classes.
Exhibits Manager David Kwasigroh was let go
Nov. 4, and a tour manager position was eliminated soon after. The tour manager, Amanda Walters, was reassigned to an open
position in the art center's Outreach Department.
The cuts come after a year in which the art center drew
$140,000 from a line of credit to cover payroll and other unforeseen expenses.
CEO Carter Wolf, who began work
July 1, said he reduced the budget from $3.1 million to $2.9 million for the current year, which began Sept. 1, but had not
addressed the short-term borrowing.
About $75,000 of the revolving credit was spent replacing heating and cooling
units. Wolf said he promised the board he would find a way to pay down the debt in the current year. Prospects for increased
revenue are slim, he said, which left him to cut personnel.
"We anticipate things being pretty tight financially
for the next year or two, maybe more," he said.
Wolf was hired in April after six years as director of
Horizon House, a day center for homeless people. He's the first executive to follow Joyce Sommers, who oversaw a Michael
Graves-designed expansion of the Broad Ripple center. She retired in July after 33 years in the top job.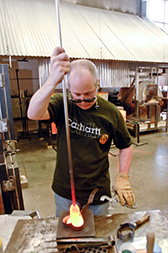 Jeff Rothenberg works on glass paperweights at the Indianapolis Art Center. CEO Carter Wolf is preparing the center for lean
times. (IBJ Photo/Robin Jerstad)
Wolf said one of his accomplishments at Horizon House was building up a cash reserve,
and he hopes to do the same for the art center. 
The center, which has 24 full-time and 11 part-time employees,
sees more than 1,100 enrollments a semester in its visual art classes.
It offers hundreds of classes and workshops
for adults and youth at its Broad Ripple campus, which includes a small outdoor sculpture park. It also mounts special exhibits
and sponsors several outreach programs.
The art center's peers cross the country are facing similar financial
problems. In a May survey by the National Guild of Community Schools of the Arts, 51 percent reported declining enrollment,
and 38 percent had cut subsidized programs. More than 40 percent have cut positions and staff pay.
The Indianapolis
Art Center has dedicated funding for its outreach programs, which include dispatching teachers to churches and community centers
around Indianapolis. Those will continue because they are central to the mission, Wolf said.
The art center will
continue to mount exhibits with Kwasigroh's duties taken over by Vice President David Thomas. Rare early work of the
late sculptor George Rickey was on display this past summer. The exhibit was the result of two years of planning, and it was
sponsored by the Fortune family, Kwasigroh said.
Once the recession hit, however, it was difficult to find sponsors
for exhibits, he said. Earlier in 2009, the center canceled two shows by artists from outside the region because of their
high shipping expenses.
Kwasigroh, 57, had been at the art center for five years. He said he wasn't surprised
that a curator position was the one eliminated. He lost a similar job managing the gallery at a campus of the State University
of New York, where he also taught museum studies, after 9/11.
However, he said exhibits, which make
a first impression on art center visitors, will suffer without a full-time curator. "It becomes a free-for-all."
Kwasigroh said he also was responsible for lining up artists for the annual Broad Ripple Art Fair, an event from
which the art center draws 10 percent or more of its annual revenue.
"The work we do for the Broad Ripple
Art Fair brings in $100,000 for the art center," he asserted.
The art center eliminated one other position,
in public relations, in early 2009, and the staff has been under a pay freeze for two years.
Wolf said he expects
fund raising, which in the past accounted for 38 percent of annual revenue, to remain steady. But the art center is still
trying to get a handle on its enrollment trend.
Class fees account for about 35 percent of revenue. The art center
has been offering more short-term workshops as an alternative to 15-week classes, which can cost $180 to close to $400 for
adults, depending on the medium.
Thomas, who oversees education, said enrollment among adults is down 5 percent
from a year ago, while youth enrollment is down 10 percent.
He's still trying to understand why enrollment
for kids and teens dropped more dramatically.
"We hadn't seen a drop like that in a long time,"
he said. "We'll have to see how the whole term pans out before we plan for the spring."•
Please enable JavaScript to view this content.