You know the drill: You're traveling and turn on the hotel-room TV for company while you get your bearings. More times than not, you end up watching at least a few minutes of the promotional channel touting the host city's amenities.

Until recently, visitors to the Circle City had to wing it. Then came the Indianapolis Visitors Channel.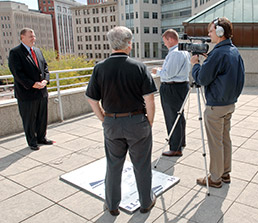 Mayor Greg Ballard, left, tapes a segment for Indy Visitors Channel atop WellPoint's headquarters. (IBJ Photo/Robin Jerstad)
Now guests at 31 area hotels can tune in images of fresh food at Indianapolis City Market, exotic animals at the Indianapolis Zoo, and local distillers hand-crafting Indiana Vodka.

"The whole goal of the channel is to welcome the guests to the city," said Chris Walczak, 51, founder of the local effort launched in July. The idea is to encourage visitors "to get out of their hotel room, explore some things in the city. … We want them to spend more time here and come back to Indianapolis."

The channel, which airs on closed-circuit networks in more than 6,400 area hotel rooms, plays like a continuous commercial. It highlights some of the city's most popular attractions and promotes local businesses—both through traditional advertising and sponsored features.


Walczak
"I'm a big supporter of things local," said Walczak, the channel's president and executive producer. "Eat Indiana, drink Indiana, buy a little bit of Indiana to take home with you. I'm big on getting people to support the local market."

Indeed, the channel is mainly supported by Indiana companies. Advertisers include Indianapolis-based A Taste of Indiana, Avon-based Monster Mini-Golf and Indianapolis-based Heartland Distillers.

"We are a locally made product," said Stuart Hobson, president and founder of Heartland Distillers, which has advertised with the channel since its inception. "The channel is a great way for us to reach [consumers] in others states without having to actually go to those states."

"We have the ability to incorporate straight advertising," Walczak said. "But more importantly we have the ability to tell a story around the company."

Walczak would not disclose the specific amounts advertisers pay for either the feature stories or the traditional advertising.

The feature stories aren't clearly labeled advertising, despite the pay-for-play business model. Still, given the promotional nature of the channel, viewers likely aren't expecting anything else.

"Seeing as this is a commercial enterprise and not a news organization, the incorporation of advertisements in the program is not unethical in its approach," said Charles St. Cyr, a professor of media ethics at Butler University.

And Walczak has reached beyond the hospitality industry in seeking to finance the $35,000 to $40,000 in yearly operation costs.

"I'm looking for support from a lot of different areas," he said. "Not just venues but major corporations who recognize they have a chance to support the area and keep the revenues here."

Walczak is Indianapolis Visitors Channel's only permanent employee. He contracts out the audio-visual work as his expertise is on the technical side of things.

Since graduating from the State College of Buffalo in 1981, he has spent most of his career building and selling satellite TV systems. When he realized Indianapolis didn't have a promotional channel, he decided to put his experience to the test.

"It's been tried in the past," Walczak said. "The reason it had never been built was no one had the technical ability to oversee it being built out. It takes knowledge of how hotel systems are figured."

Walczak had colleagues who were involved in similar efforts in other cities, so last fall he began the work in earnest. He said research done at the Philadelphia Visitors Channel showed 65 percent of hotel guests watch the channel for an average of 20-30 minutes.

"Visitors channels are highly watched," Walczak said. "Because of the way the hotel system functions, you have to stumble through the channels. If [visitors] see this is an Indianapolis visitors' channel, and they have time for things to do, they watch."

After first broadcasting in the Conrad Indianapolis, Walczak expanded his network. Although he designed the program to focus on downtown, he expects to broaden coverage now that the channel is airing in suburban hotels.

Hotels have embraced the effort, in part because they are getting it free. But the channel offers other benefits for its customers.

"For us, it's a third point of contact," said Jesse Ghumm, manager of the Hampton Inn downtown. "We have the employees who know the city, the literature advertising the city, and now we have a channel that reaches visitors in their rooms. … We support anything that might encourage our guests to go out and visit the city and want to come back."

As he adds content, Walczak said, he hopes to eventually hook up the channel in 70-80 hotels around the city, reaching 15,000 to 18,000 guest rooms.

"We are thrilled that Chris is doing this," said Warren Wilkinson, senior vice president for marketing and communications at the Indianapolis Convention and Visitors Association. "Communicating all of the attractions and restaurants in the city while visitors are here is very beneficial."

Wilkinson said he hopes the program will bring visible benefits to the city's $3.6-billion-a-year tourism industry.

"The proof is in the pudding," he said. "I guess we'll see if it is able to get visitors to come back."•