Airport concessionaires stung by a 10-percent drop in passenger traffic have asked the Indianapolis Airport Authority to
ease its so-called street-pricing policy, which was implemented more than 10 years ago to keep prices in line with what consumers
pay outside the airport.
The authority so far has denied the request, saying it will grant about $800,000 in other
forms of relief this year to retailers and restaurants leasing space at Indianapolis International Airport.
"IAA
is working with its business partners to help alleviate the financial stress they are experiencing," said airport spokeswoman
Susan Sullivan. "But we balance that with the understanding that our passengers and customers are feeling the same strains."
The opening of a $1.1 billion terminal last November coincided with the worst economy since at least the early 1980s.
Through September, 5.6 million passengers had flown through the airport this year, versus 6.3 million in the first
nine months of 2008.
To put that in perspective, for concession operators it's a decline in prospective
customers roughly equivalent to the population of Indianapolis.
That decline has been felt to varying degrees
by the airport's 23 restaurants, 24 specialty retailers and eight news/gift shops.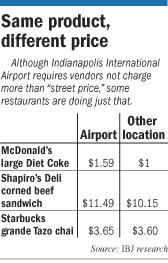 Brian Shapiro,
of Shapiro's Delicatessen, said sales at his family's airport store slowed during the summer
but now are "strong," in part he suspects because he's picking up share from airport
restaurants that are struggling. The new terminal has a number of restaurants at a higher price point,
putting them at risk when passengers are more budget-conscious.
Benefiting despite the economy,
and perhaps partly because of it, is Enroute Massage & Spa. Owner Erin Humphreys, who also operated
in the old terminal, estimated her sales are up 2 percent this year. Stress passengers are feeling amid the recession may
be partly to credit, she said. "Thankfully, that's the business that I'm in."
Humphreys
has also added to her product line, however. Recently, she started selling locally made handbags and jewelry with a sustainability
theme, such as purses made from recycled leather.
It all adds up. Last year, the airport's retailers, restaurants
and rental car companies generated $135.8 million in sales. That translated into $15.4 million in revenue to the authority.
Concessionaires pay rent, which is often in the neighborhood of $75 a square foot. By contrast, tenants at Indianapolis-based
Simon Property Group Inc. malls nationwide are paying an average of $40 a square foot. Much higher rents at airports are standard
because the customer base is captive.
Airport retailers also pay a fee equal to the greater of a percentage of
gross sales or a minimum guarantee.
"It's $75 a square foot plus 10 percent [of sales]," said
one restaurateur, of his terms.
Sullivan said the airport authority granted abatements to some concessionaires—suspending
the minimum guarantee for the period Aug. 1 through Dec. 31.
It's not clear how many concessionaires have
asked that the airport also suspend the street-pricing requirement, which is part of their concession agreements.
Humphreys said she understands her fellow retailers' struggles, but that there's a risk in allowing concessions
to charge more than what consumers are used to paying.
"People already think that the airport is
more expensive … . There's this break point of where [customers] will spend and where they will not."
Grounding gouging?
Street pricing was championed here by British airport management firm
BAA, which the authority hired in the mid-1990s to run the nation's 46th-busiest airport.
Before BAA, the
authority had a concession agreement with just a few firms that operated the few shops and restaurants at the airport. Today,
the 55 concessionaires fall under at least 18 different agreements.
BAA ceased local airport management in 2007.
But the authority said it continued the street-pricing requirement, which can carry fines for non-compliance.
BAA's
use of street pricing in Indianapolis and at Pittsburgh International, where BAA still manages Pittsburgh's "Airmall,"
became a model for other airports.
In Pittsburgh, the Allegheny County Office of the Controller takes street pricing
seriously. Last summer, it conducted a sample of 72 items from the airport and found that 7 percent were not in compliance
with street pricing. One violation: A Butterfinger candy bar selling for $1.09 versus the 99-cent "street price."
"Require the Airmall subtenant Paradies … to adjust the price of Butterfinger (2.1 ounces) to reflect
the comparable street price," the Controller's Office says in an almost humorous report to the Allegheny County
Airport Authority.
"Airports have spent the past decade trying to communicate that their pricing is fair
and [that] they are not gouging their customers," said Pauline Armbrust, president and CEO of Palm Beach Gardens, Fla.-based
Armbrust Aviation Group, which publishes Airport Revenue News, the bible of airport retailing.
"Raising
prices now would jeopardize the trust they have built. However, allowing concessionaires to raise prices would help offset
the losses they have suffered over the past 12-18 months."
Some airports built a "10 percent above
street pricing" clause into their contracts even before the recession.
"So that may be an option for
some that went straight street," Armbrust added.
Sullivan said any consideration of suspending street pricing
would have to balance the welfare of travelers with the well-being of concessionaires.
But for now, it's
straight street pricing at Indianapolis.
Comparing prices
Just what street pricing
entails takes a little explaining, however.
Take for example the "Arguing with Idiots" book by broadcaster
Glenn Beck, which recently sold at Borders in the airport for $29.99.
A couple of miles away, at the Target store
in Plainfield, the same book could be had that day for $19.99.
Meanwhile, the USA Today shop at the airport
sells a 24-tablet bottle of Advil at $8.29. At Target: $5.49 for a 50-tablet bottle of Advil.
So what's
with that?
Sullivan said street pricing should not be thought of as the lowest price someone could find outside
the airport proper for a similar product. A bottle of Coke at Wal-Mart selling for 99 cents might, for example, sell at Walgreens
for $1.39 and at a convenience store for $1.99, she explained.
"If the convenience store is considered the
comparable location, the Coca Cola will be sold for $1.99," Sullivan said.
Restaurant pricing is a little
easier to track. A restaurant at the airport is required to charge prices in line with what its off-airport properties might
charge.
An informal survey by IBJ found that McDonalds in Civic Plaza charged the same for a bacon cheeseburger
as the McDonalds in Plainfield.
In some cases, the airport prices are actually lower. For example, a chicken burrito
at the Qdoba at the airport was 14 cents cheaper than at the company's restaurant in Plainfield.
Harder to
swallow was the $11.99 Shapiro's wanted for its Reuben at the airport—$1.04 more than the price listed on its
Web site for the sandwich at its downtown and Carmel restaurants.
Shapiro said airport retailers face unique challenges,
including relatively high cost of rent, longer hours and the logistical challenges of delivering food to the terminal.
As for helping to alleviate those costs during the recession, he credits the authority for moves such as letting concessions
close sooner at night, when only a few flights operate.
Humphreys said the airport is trying to help retailers
in the gate areas by coming up with a plan to allow them to also sell goods at kiosks in the publicly accessible Civic Plaza.
Airport managers at the same time are trying to draw more non-travelers to the plaza, kicking around the idea of concerts
and other activities, which could translate into more sales for concessionaires.
The terminal was designed to boost
retail and restaurant revenue in a post-9/11 environment. It put more shops and restaurants in gate areas, where passengers
spend more time cooling heels after arriving earlier to clear increased security.
The strategy might have worked
like a charm if not for the falloff in the number of passengers.
Concession sales per boarding passenger, excluding
rental cars, are sharply higher so far this year. They've risen to $11.18 this year from $7.99 in 2008, when operations
were conducted mostly out of the old terminal.
Though that suggests passengers are spending more—in some
cases because of pricier food offerings at the new terminal—it doesn't take into account higher operating costs
for many retailers at the new facility. Not only are some spaces bigger, but they may require more staff, adding to overhead.
The authority says the increase reflects "quality, assortment and availability of products, food services"
sought by passengers and not a reflection of an improved economy.•
Please enable JavaScript to view this content.