Thirty years ago, at age 17, Steve Schwartz knew he wanted to be his own boss. So he bought a tiny bait and tackle shop on the White River in Noblesville. There was a two-bedroom apartment in the back. Good thing, because Schwartz and his wife, Lori, worked there from 5 a.m. to 10 p.m., seven days every week.

"We've devoted a lot of our life, blood, sweat and tears, to get where we are," he said. "We always knew we wanted to diversify and sell more than just worms."

Two sons, Pete and Eddie, eventually came along. Schwartz joined the Hamilton County Council. As Noblesville grew, Schwartz's Bait and Tackle did, too, notably expanding into canoe rentals—a bustling sideline that now boasts three vans, 14 trailers, and 130 canoes and kayaks.

On busy Saturdays in midsummer, Schwartz said, up to 1,000 customers rent his canoes. The couple still enjoy running their fishing supply shop. But they'd like some time to take it easy. So they're selling White River Canoe Co.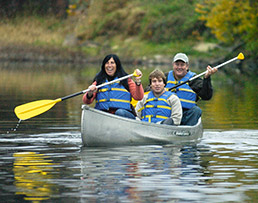 The Schwartz family, from left, Lori, son Pete and husband Steve, are selling White River Canoe Co. in Noblesville. (IBJ Photo/Robin Jerstad)
It can be yours for $250,000.

"We talked about this for more than a year, the wife and I," said Schwartz, 48. "It's been a decision that hasn't been easy to make. We like the canoe company. But it's a matter of, we're ready for some private time for ourselves."

Even in a recession, entrepreneurs buy and sell all sorts of companies. Sellers' motivations are myriad. Some approach retirement and have no children who want to take over. Others need to raise cash or, like Schwartz, simply want to reclaim some of their free time.

There are currently dozens upon dozens of businesses for sale in the Indianapolis area. Interested in owning a pet kennel? One's currently advertised for $370,000. How about a tanning salon? Asking price: $125,000. Got $2.6 million? You could become the proud owner of a newly remodeled 120-room Quality Inn. Or take your pick from the wide selection of bars, restaurants, auto-repair shops and secondhand franchise stores available.

'An art and a science'

Selling your business is a complicated transaction, and there's almost always a broker involved. Experts begin the sales process by reviewing your company's financial statements and tax returns for the last three to five years. Good brokers carefully analyze earnings, cash flow and physical assets, then help entrepreneurs establish realistic premiums to expect at payday.

"It's really an art and a science," said Troy Frank, president of the local office of Fort Lauderdale, Fla.-based VR Business Brokers Inc. "You blend them both together with your experience and come up with that average to go to market with."

Entrepreneurs often have higher price expectations than the market will bear, Frank said. That's especially true today, when many of the businesses on the sellers' block are distressed, he said. Companies in troubled industries, or that have only a handful of customers, are the hardest to sell.

Prices, ranging from 1.5 to 4 times company earnings, Frank said, have skewed lower in the recession.

Just as important is the emotional side of the transaction. Frank said for many sellers, price is less important than finding a trustworthy buyer, who will take care of "their baby" and move it to the next level.

"It's not just a money thing. Many have already made their money," he said. "They're looking for someone to take care of employees and customers. It helps with the transition if they feel [the business] is in good hands. It's kind of like walking your daughter down the aisle."

That's how Schwartz feels about White River Canoe Co. His family organized the rental business 10 years ago, in a meeting just before Christmas on the back porch. The infamous White River fish kill, which claimed 4.6 million fish after Anderson's Guide Corp. released toxic pollutants into the water in 1999, threatened to destroy Schwartz Bait and Tackle as fishermen fled.

Schwartz wanted White River Canoe to be a family-friendly business, so he's always been strict about prohibiting alcohol or drugs in his canoes, which are all Indiana-made. A self-described "river steward," he wants environmentalism to remain a priority, so litterbugs need not apply. He takes pride in the seaworthiness of his craft and the quality of his life jackets.

Schwartz would like to keep an advisory role once the business changes hands. His ideal buyer would be a young couple willing to live in a house on White River where the canoe route ends. It's included in the deal, along with four acres of land and a barn.

Swapping one business for another

For some entrepreneurs, selling one business leads to buying another. That's what happened to Chad Wolfe, 34. Formerly a bond trader with Conseco Capital Management in Carmel, Wolfe first tried his hand at small business by buying a Big League Barbers Inc. franchise in northern Cincinnati. He soon learned that absentee ownership wouldn't cut it, and sold his stake.

Wolfe's next foray into small business was buying locally based Education Service Corp. in 2005 for $400,000. At that time, the business was focused on school fund raising. Wolfe has overhauled it to concentrate on gate management at school sporting events, with a special focus on electronic season passes.

Last year, he saw another opportunity: the Indianapolis territory of Lake Mary, Fla.-based Perfect Wedding Guide, which publishes a quarterly local catalog and organizes bimonthly bridal shows, was for sale. Wolfe and Ryan Hendrickson, an old college roommate, bought it.

Crucial to the deal was the previous owners' willingness to stay on the job for several months. They did much more than simply hand over the keys, Wolfe said. A real transition plan shows more than "where the rest rooms are," he said." It documents all processes and teaches them, and introduces the buyer to clients and employees, "so it's not such a cold-water shock."

"You don't just walk in and know how to run a business. When buying a business, you really need to look at, what does this transition plan look like?" Wolfe said. "Who are my key people and what do I need to do to keep them? It's important to identify that upfront."

When a deal goes bad

Unfortunately, not every small-business sale works out exactly as expected. In 2006, Mohan Sarda, 40, bought the Box Shoppe in Castleton. Sarda had become familiar with the store while looking for packaging to ship horse saddles that he was helping a friend import from India. He was impressed that the store always could provide shipping containers that were a perfect fit.

At its peak in the 1990s, the Box Shoppe had expanded to 60 franchised stores, but subsequently contracted down to just one location. Sarda thought he could revive the brand. But after the sale closed, Sarda said, he felt "ripped off." He discovered that most of the inventory he'd bought was 15 years old and outdated, due to changes in the packaging market. The Web site needed an overhaul. And at 13,000 square feet, the business's old physical location was far too large.

Sarda has made some changes, such as moving to a cheaper, 6,000-square-foot space. A new Web site has increased sales, particularly of hat boxes. But growth didn't materialize as quickly as expected, even before the recession began. To make ends meet, Sarda said, he must work a day job as a project manager at Indianapolis-based Allison Transmission. His wife now runs the store.

"I might still do the deal again," Sarda said. "But I would definitely do it differently."•