Type of business: publishing
Address: 4010 W. 86th St., Suite H
Phone: 222-7131
E-mail: help-me@professortextbook.com
Web site: www.professortextbook.com
Founded: April 2009
Owners: Alan Harris, Miles Nelson and Ray Robinson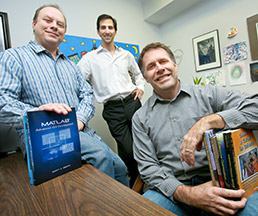 Professor Textbook co-owners, from left, Alan Harris, Miles Nelson and Ray Robinson, hope to persuade more professors to write their own textbooks. (IBJ Photo/Perry Reichanadter)
Owners' background: Professor Textbook is a division of Dog Ear Publishing, which shares the same owners. Harris, 45, and Robinson, 45, both moved here from Stamford, Conn., and worked together at a traditional publishing house, D&G Ltd. They decided to join Nelson, 40, an entrepreneur, who launched Dog Ear Publishing five years ago as a self-publishing company. It has published about 1,000 titles. Nelson, an Indianapolis native, owns locally based M Nelson Printing & Associates.

Why started the business: With an extensive publishing background, the three owners thought a lot of professors had good ideas, but lacked knowledge of how to bring a textbook to market. "A lot of professors have better information, a better product for the student," Robinson said. Instead of paying $200 for a book that doesn't really fit the course, a student could use the professor's content by buying his published book.
Competitive advantage: price
Startup cost: less than $50,000
Funding source: Dog Ear Publishing, a sister company
Projected first-year revenue: less than $200,000
Potential problem and contingency plan: The biggest problem the owners are worried about is that professors who have never published their work might not be confident about writing their own book. They're also concerned about the historical stigma attached to self-publishing as opposed to traditional publishing. But Robinson said they are working hard to persuade professors they can publish great books themselves.
One year goal: Get three to five books through the process and into the market.
Five-year vision: Produce 20 to 30 textbooks a year. "The biggest goal we have is really to change perceptions in the academic market regarding the independent publication of textbooks by instructors, teachers and professors," Robinson said. "Much like the self-publishing market has matured—gaining a much greater level of market validity over the past couple of years—we'd like to contribute to the increasingly positive view of self-published textbooks."•
—Riya Anandwala
Please enable JavaScript to view this content.