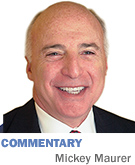 Mayor Greg Ballard published his book "The Ballard Rules" in 2005. Apparently, the rules do not apply
to Ballard.
Ballard rule: Behave as if your actions could wind up on the front page of a newspaper.
Just before the City-County Council voted last month to table Proposal 371, which would extend the city's smoking
ban to bars, bowling alleys and private clubs, Ballard appeared in a private Republican caucus. He urged Republican council
members to vote no in order to save him from going public with his opinion and having to issue a veto despite the fact that
he pledged support for smoke-free workplaces during his election campaign.
Ballard rule: Decisiveness
is the ability to reach timely decisions and to communicate them in a clear, understandable manner. If you wait too long to
announce an important decision then you will be creating unnecessary uncertainty that may result in unintended consequences.
In response to a direct question from reporter Norm Cox of WRTV-TV Channel 6 news in the aftermath of the proposal's
being tabled, Ballard continued to refuse to publicly say whether he supports or opposes Proposal 371 as it is presently written
and whether he would sign or veto the ordinance if it passed the council. Ballard, two days later, appeared on WTHR-TV Channel
13 and said he would veto the ban if it were passed in its current form. The council is set to vote on this issue Nov. 30.
Ballard rule: Assemble the stakeholders, get their input, think through the issues, then announce
your decision as promptly as possible.
Angela Mansfield, sponsor of the bill, when asked about Ballard's
statement that he met with sponsors of the bill, stated, "He's never met with us. We asked him to and he refused."
On Oct. 29, the mayor met with 150 youth. At the meeting, Shane Young of Southport High School posed the question,
"When do you think Indianapolis will go smoke free?" Ballard included in his reply, "Other than the Smoke
Free Indy group, we don't hear about this. It's not an issue that's really on people's minds as a
city. It is a minority of people who ask the question, but across the city, it's not a primary interest. Frankly, that's
true."
But in a recent survey, 70 percent of the Indianapolis public supported a comprehensive smoke-free
workplace law to cover all workplaces, including bars, bowling allies and private clubs.
Many institutions in our
city, including nearly all the media and the Indianapolis Chamber of Commerce, an organization consisting of representation
from many central Indiana businesses, have spoken out clearly supporting the expansion of this ban.
Ballard
rule: Leaders must look out for the welfare of their people. It is required because it is a moral norm in our society.
Anyone today who thinks secondhand smoke is not a major health risk is time-warped in the 1970s. Secondhand smoke
is deadly.
Ballard stated that the expanded smoking ban could hurt some small businesses. That is an argument
that may have interested some a few years ago, but the data is in, and it's a total non-issue. Last spring, the Indiana
University Center for Health Policy in a policy brief concluded that smoke-free laws do not cause negative economic consequences
for bars, restaurants or other hospitality venues. A 2007 study commissioned by Smoke Free Indy concluded that the original
ordinance passed in 2005 has not had a negative effect on sales or employment. On the other hand, according to the Marion
County Health Department, smoking costs Marion County businesses hundreds of millions of dollars in increased health insurance
premiums and other costs.
Ballard rule: If you do not look out for the people's welfare,
there will be very few, if any, people who will want you as a leader in the future.
Mayor Ballard, the election
is just a couple of years away.•
__________
Maurer is a shareholder in IBJ Corp., which owns
Indianapolis Business Journal. His column appears every other week. To comment on this column, send e-mail to mmaurer@ibj.com.
Please enable JavaScript to view this content.