Cutting out the middleman is a time-tested way of saving money.

And it seems to be picking up steam in Indiana health care.

The St. Vincent Health hospital system has joined with Indianapolis-based Novia CareClinics LLC to set up clinics on employers' campuses, offering health care for their workers with no insurance companies involved.

The two companies promise savings because this direct contracting can include wholesale instead of retail prices—not to mention the hope of cost saving by having an on-site clinic catch big-dollar health problems before they explode.

And they're getting more than a few bites so far. Since St. Vincent and Novia joined forces in July, when they opened a clinic at Zionsville Community Schools, they have signed up four more employers.

Those include Hillenbrand Inc. in Batesville, Youth Opportunity in Muncie, and the cities of Kokomo and Noblesville. And the say they're in discussions with many more employers.

"This is where health care is headed," said Kevin Speer, chief strategy officer for St. Vincent Health, the Indiana subsidiary of Ascension Health, a St. Louis-based chain of Catholic hospitals. "It's going to be of greater and greater interest to employers as we move forward."

No one, Speer included, sees direct contracting replacing health insurance. But these direct relationships can be structured with financial incentives for hospital systems to keep patients out of their facilities—something that would require a massive overhaul of insurance plans' payment systems.

"The real savings comes through a better relationship between the employee and the health care provider," said John Bridge, executive vice president of Novia Care. "The provider is paid based on time spent, not on volume of patients."

Employers with Novia clinics typically make their clinics' services available free to their employees and dependents. They pay for a 40-minute initial visit with the clinic doctor, then 20 minutes for each appointment after that.

The average time for a visit to a primary care doctor in a typical office setting is 20 minutes.

St. Vincent is not the first local hospital system to go down this road.

Clarian Health is considering direct contracting once it puts together an army of physicians who all will commit to work together to treat patients. Some of those physicians will become employees of the Indiana Clinic, Clarian's joint venture with the Indiana University Medical Group. Others will align their financial interests with Clarian under its Clarian Quality Partners program.

Also, Clarian and Community Health Network have been providing on-site wellness programs for employers the last few years—with impressive results for such companies as Celadon Group and Monarch Beverage.

St. Vincent also is using Novia Care to take it into areas of the state where it currently has no presence, such as Batesville. That can only lead to extra referrals to St. Vincent hospitals down the road.

Novia Care first went to Batesville in early 2007, opening a clinic at Batesville Tool & Die, an auto-parts maker.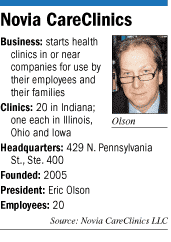 The company, which acts as its own health insurer, saw its per-employee health costs shoot up 18 percent from 2004 to 2006. But after it opened the clinic, costs held steady for two years at about $7,800 per worker.

Those savings have come, for example, because a few workers with heart trouble got help before having heart attacks, said Jim Menser, cost and benefits manager at Batesville Tool & Die. In addition, the company saves on medical procedures, paying about $12 for blood tests performed at the clinic versus $150 at the local hospital.

Costs have jumped this year after the company laid off a bunch of workers but is still funding their health care costs under the COBRA coverage. It also has seven people on its health plan who have been diagnosed with cancer this year.

"I'm still better off than if I just accepted a 9-percent increase every year," Menser said. He's also encouraged because 10 times as many people on the company's health plan are using the clinic as participated in various wellness programs the company had tried before.

He liked the direct contracting so much that he signed a deal this year with a Cincinnati chain of imaging centers, which he predicts will save about 40 percent on MRIs, CT scans and other diagnostic tests.

"I think that's going to work out well for us," he said.•