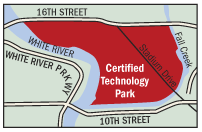 A new task force is charged with making recommendations for development of the city's downtown certified technology
park.
The Indianapolis Downtown Certified Technology Park Task Force convenes next month. It will evaluate optimal
use of a corridor that's long been targeted for life sciences businesses and facilities.
The corridor, bounded
by 16th Street on the north, Fall Creek on the east and south, and White River on the west, was designated a certified technology
park by the Indiana Economic Development Corp. in 2003, allowing collection of taxes generated inside its boundaries for reinvestment
inside the park. It was named a life sciences district in 2004 under Indianapolis' 2020 Regional Center Plan.
The eight-member task force is chaired by BioCrossroads Vice President Anne Shane. It also includes Indianapolis Economic
Development Inc. CEO Scott Miller; his colleague, IEDI Life Sciences Director Nancy Langdon; Dorothy Jones, a member of the
Metropolitan Development Commission; Riverside Civic League President Peggy Gamlin; Clarian Health
Senior Vice President of Engagement and External Affairs Ron Stiver; Indiana University Office of Engagement
Executive Director David Gard; and Deputy Mayor for Economic and Workforce Development Nick Weber.
"This
is a concrete step forward as we look to determine what opportunities are out there for this specific cluster area,"
Weber said in a statement. "Much has been done in terms of evaluating the possible, but now we are working to take action
on these opportunities and make development in this area a reality."
Please enable JavaScript to view this content.