National Wine & Spirits Inc. suffered a staggering reversal of fortune when a state regulatory body dropped its opposition
to a giant competitor entering the Indiana market.
And now the Indianapolis-based wine and liquor distributor is
going to court to stop it.
The Indiana Alcohol and Tobacco Commission ruled Nov. 5 that Miami-based Southern Wine
& Spirits of America Inc. could distribute in Indiana. The wine and liquor permits were issued as of Nov. 20.
That's bad news for National. Even though it controls nearly 60 percent of the Indiana market, it is 1/10 the size
of Southern. Southern holds distribution agreements with alcohol manufacturers in 29 states, which National fears it will
leverage to steal away National's Indiana contracts.
National CEO James E. LaCrosse called Southern "the
800-pound gorilla" earlier this year, warning the commission that Southern would drive his company out of business in
Indiana, where it employs about one-third of its 1,700 workers.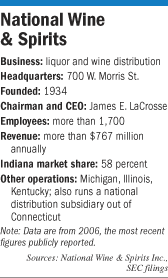 The four-member commission's decision
to OK Southern's entry was "arbitrary, capricious and otherwise not in accord with law," National's
attorneys wrote in their lawsuit filed Nov. 16. They want Marion Superior Court Judge David Dreyer to stay the permits and
tell the commission to reconsider its ruling.
Calls to National's officers and attorneys were not returned.
The commission's decision was surprising. Its unanimous ruling in favor of Southern reversed two previous rulings—also
made unanimously—that denied Southern's application for permits.
In 2008, the commission turned Southern
away because the owners of the company dwell outside Indiana. That residency restriction, however, was effectively nixed in
a Sept. 14 opinion by the Indiana Attorney General's Office.
The next day, the commission denied Southern
again, this time citing anticompetitive behavior in other states. Southern's attorneys said the commission's reasons
were "economic protectionism."
Alex Tanford, an Indiana University law professor in Bloomington, said
National's chances in court are low because Southern's anticompetitive behavior in other states "is not
grounds for denying them a permit."
Tanford, who has lobbied in recent years to allow Hoosiers to buy
wine online, said he likes the commission's decision.
"Will it hurt National?  Who knows, and
who cares?" he wrote in an e-mail. "Competition is good for any industry. It may force National to do a better
job of serving the public with a wider variety of products (especially wine) distributed at a lower cost."
Thomas Snow, chairman of the commission, declined to comment on the body's approval of Southern's permits or
on National's lawsuit, which names the commission as defendant.
Rick Northern, an attorney for Southern,
also declined to comment on the lawsuit but said the company is moving to begin operations in Indiana.
"We're
excited about coming to Indiana, and we're pleased with the commission's decision," he said.
However,
National contends that Southern has already been angling to monopolize the Indiana market via a joint venture it announced
in August 2008 with Dallas-based Glazer's Distributors. Glazer's has an ownership stake in Indiana's second-largest
liquor distributor, Olinger Distributing Co.
In court filings, National claimed Southern and Glazer worked together
to lure away an alcohol manufacturer, Las Vegas-based Patron Spirits Co., which had used National as its Indiana distributor
for 12 years.
National officers told the commission that, in January, a Patron representative said the company
had switched its Indiana business to Southern. He later corrected himself to say Olinger.
"There is a direct
link joining the highest levels of Olinger's management, the joint venture and Southern," wrote National's
attorneys in their lawsuit.
That relationship worried the commission, according to its Sept 15 denial. The commission
also was concerned that Southern had been investigated for trade-practice violations in Illinois in 2002 and in New York in
2005.
But six days after the commission's denial, Southern and Glazer announced that the joint venture was
off because of "the sheer complexity of the transaction."
Southern, citing the end of the joint venture,
pressed the commission anew for Indiana permits. It also countered the concerns about its trade practices by noting that the
Illinois and New York investigations looked at all major alcohol distributors in those states, including National in the Illinois
case.
"Unless the commission intends to revoke the permits of every Indiana wholesaler and supplier that
has been investigated in another state, the commission's [denial] sets forth an unequal and, therefore, arbitrary application
of law," Southern's attorneys wrote in a brief filed with the commission.
The commission agreed. The
end of the Southern-Glazer joint venture removed the key hurdle, Snow wrote in his ruling, adding that Southern's arguments
had "refuted" all concerns about its trade practices.
But National's attorneys derided Southern's
"everybody's-doing-it" argument, saying it ignored that investigations had turned up evidence of trade violations
against Southern, but not against National.•
Please enable JavaScript to view this content.