The Indianapolis Tennis Championships—formerly known as RCA Championships—appear to be dead, with the ATP Tour dates being shipped off to Atlanta for 2010 and beyond.

Though ITC officials did not return calls seeking comment, two sources within the U.S. Tennis Association confirmed that the USTA's Southern Section in Georgia is buying the tournament dates from organizers of the Indianapolis tournament. It is not clear what the terms of the deal are.

Tournament organizers that are granted a coveted position on the ATP Tour, the top circuit for male professional tennis players, essentially own those dates on the calendar.

The ATP does have some power to change those dates. The local tournament was hurt in 2003 when ATP officials moved the event from August, where it was a key warm-up to the U.S. Open, to July.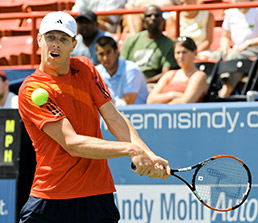 Players like Sam Querrey didn't draw big crowds to the local ATP Tour event last year. (Associated Press Photo)

The ITC has struggled mightily in recent years, losing its title sponsor, RCA, after the 2006 tournament, along with its television deal with NBC. Perhaps as a result, attendance and revenue have declined.

The event struggled in recent years to meet its annual budget of $3.4 million, which covers a prize purse of about $520,000, player appearance fees and the mounting costs of maintaining and upgrading the aging Indianapolis Tennis Center on the IUPUI campus.

A dearth of U.S. men's tennis stars in recent years has also hurt the local tournament. Attendance declined from the 1980s and 1990s, when the likes of Jimmy Connors, Pete Sampras and Andre Agassi were regulars and the week-long event drew more than 90,000 spectators. In recent years, attendance fell well below 70,000.



The future of the local tournament has been further muddied by the announcement last year that IUPUI plans to demolish the tennis facility eventually.

ITC officials in mid-November said they were awaiting word from a company that was pondering taking over title sponsorship of the tournament, which traces its local roots back more than eight decades.

Officials for Eli Lilly and Co. Inc., which tripled its sponsorship commitment since RCA pulled out, said they wouldn't be able to commit to the local tennis tournament financially until the first quarter of 2010.

"We've been busy with the reorganization of our company," said Lilly spokeswoman Lauren Cislak. "We're not in a position to commit to the sponsorship right now."

Amid speculation the tournament was moving, an Atlanta-based marketing firm, The Forward Agency, recently began soliciting sponsors for a new ATP Tour event this upcoming July on the dates previously held by the Indianapolis event.

Officials for The Forward Agency did not return calls seeking comment, but an online announcement from the firm's owner, Jason Pritchett, advertised sponsorship opportunities for an ATP tournament to be held at the Atlanta Athletic Club that will be televised on ESPN2 and The Tennis Channel. Both were TV partners of the Indianapolis event in 2009. That announcement has since been pulled.

A source within the USTA said officials for USTA's Southern Section have been seriously negotiating to buy the dates of the local tournament since the 2009 U.S. Open in late August and early September.

Officials for the USTA's Midwest Section in Indianapolis said they talked with ITC executives over the last two years about taking an equity stake in the tournament to keep it here.

Mark Saunders, executive director of the USTA Midwest Section, talked to officials at the USTA's national office about obtaining financial aid to keep the tournament in Indianapolis, but in the end, Saunders said, with the recent economic swoon, the Midwest Section simply couldn't afford to invest.

Georgia and some of its surrounding states are tennis hotbeds. The Southern Section covers nine states and has more than 170,000 members. It has greater financial resources, USTA officials said, than the Midwest Section, which covers 5-1/2 states and has 84,000 members.

There's no shortage of people in the local sports and tennis community who think the ITC's death would hurt the local sports landscape.

"This tournament for years was a unique drawing card for the entire state, and its absence will put a sizable hole in the sports calendar," said Jim Whipkey, president of the Central Indiana Tennis Association. "You simply can't replace the type of attention this tournament brought this region with another sporting event. If it's true, this is a very sad day."

Sports business expert and former dean at IUPUI Mark Rosentraub is more pragmatic.

"This isn't surprising," said Rosentraub, who now works in the School of Urban Affairs at the University of Michigan. "The market has spoken."

Rosentraub, who has authored two books about professional sports operations, said the disappearance of the ailing tournament could actually be a good thing.

"The focus right now has to be on protecting the large base assets of this community: Conseco Fieldhouse and Lucas Oil Stadium," Rosentraub said. "Anything that takes consumer dollars away from those assets has to be given lower priority.

"The market in Indianapolis has become saturated. This is a contraction, a market correction. It's as simple as that."

Still, it won't be easy for tennis fans to say goodbye to the tournament, which traces its roots back to the Woodstock Country Club in 1920. It started there as the Western Open before evolving into the U.S. Open Clay Court Championships. That tournament, which featured men and women, became the U.S. Men's Hardcourt Championships and RCA Championships. The event brought some of the biggest international tennis stars to Indianapolis every year.

From the 1980s up to 2001, the tournament was voted the top ATP Tour event by the players a record-setting 11 times. But as the ATP tweaked its schedule and promoted a summer tournament in Cincinnati to the Masters Series, the highest rung of events outside the Grand Slam, the local tournament began to slide in prestige despite local organizers' attempts to obtain the same status.

"It's been a tough situation with the event in Cincinnati," Whipkey said. "That took a lot of wind out of our sails. And things just started to sink from there."•