Jim Dodson, CEO of The Dodson Group Inc., could be forgiven for wanting to blot 2009 out of his mind.
His
business faced one major trial after another, from recession-related hurdles to a shocking financial scandal that nearly bankrupted
it. Fortunately, he's become a self-taught expert at finding—and even profiting from—the silver lining around
dark clouds.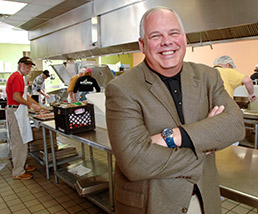 Jim Dodson's Indiana Achievement Awards have honored not-for-profits, including Second Helpings. (IBJ Photo/Robin
Jerstad)
"When I look back on my life, I realize I've dealt with some very major problems," said
Dodson, 49. "It's how you handle them that determines whether you grow as an individual or shrink. I think I've
managed to grow through problems."
He also has provided a strong leg up to dozens of Indiana-based not-for-profits
charged with helping the less fortunate weather their own storms. An entrepreneur who founded his business shortly after graduating
from college, Dodson decided to set aside 10 percent of its after-tax profits for charity—before the company had any
profits to speak of.
He and the firm's other principal executives used those initially meager funds to
form the Sycamore Foundation. The group's marquee events are the Driving for Dreams golf tournament, which annually
raises about $50,000 for 20 central Indiana not-for-profits, and a 5K walk called Walking for Dreams, which raises even more.
But his signature community-service project is the Indiana Achievement Awards, a program that annually recognizes
the state's best-run, most-effective not-for-profits and provides them with $20,000 cash awards. This year's winners
were the local food-rescue organization Second Helpings and Bloomington-based food pantry Mother Hubbard's Cupboard.
Philanthropy experts say the IAA, which celebrates its 10th anniversary this year, does more than merely hand out
checks and plaques to worthy causes. It also recognizes not-for-profits' managerial excellence and encourages others
to emulate their prize-winning practices.
"It's not just about winning an award," said Eugene
R. Tempel, president of the Indiana University Foundation and one of the first people to whom Dodson presented his concept.
"It really is a carrot for nonprofit organizations to aim for. I know of nonprofits that didn't get
the award one year, but then took deliberate steps to prepare to win in future years. By positioning yourself to win the award,
you are also positioning yourself to do your work better."
Dodson also devotes time and money to a long
list of other not-for-profits. He's served, for instance, as trustee of the Catholic Community Foundation, director
of Indiana Grant Maker's Alliance, chairman of Dayspring Food Shelter, director of the 500 Festival, and chairman of
Young Life, a Christian youth organization for middle- and high-school students.
In recognition of his many roles
as a community servant, Dodson is this year's recipient of the Michael A. Carroll Award, given annually by IBJ
to a man or woman who embodies the former deputy mayor's determination, devotion to and enthusiasm for the community.
Early adversity
Dodson has been positioning himself to do good deeds ever since his childhood growing
up on his parents' Westfield farm.
When his father, Pete Dodson, suffered a heart attack in December 1978,
the high school senior left behind his classes for several months to help manage the family's west-side meat-packing
operation. It was the first of several major problems Dodson turned to his advantage.
"My dad survived
the heart attack, we fulfilled our order obligations, and I learned that running a business was more fun than high school,"
he said.
Nevertheless, he returned to class, graduated and went on to study business at Purdue University. While
serving as treasurer for his fraternity, Phi Gamma Delta, he noticed that the frat paid $2.40 for each gallon of milk—milk
that went for $2 a gallon at area grocery stores.
Using his position as a student member of the university's
board of trustees, he got the school's purchasing department to show him what it, as a high-volume buyer, paid for moo
juice—a rock-bottom $1.65.
Out of that small discovery a business model was born.
Dodson,
with the help of Purdue business law professor Bob Eggleston, banded all the fraternities and sororities together to buy everything
from dairy products to trash pickup services in bulk, for discounts. They formed a not-for-profit, Student Purchasing, using
its profits to establish scholarship grants for students.
"One day I was opening the mail and found a check
for 330 bucks from Dean Foods, which represented 1 percent of the $33,000 in dairy products that the fraternities and sororities
purchased the previous month," he said. "When you struggle to find pizza money for Friday night, getting $330
in college was big."
Dodson dutifully deposited that check into the not-for-profit's account. But
he couldn't help wondering whether a private company could build a for-profit business by offering the same sorts of
services.
After graduating, Dodson worked briefly for Procter & Gamble in Cincinnati before moving back to
Indianapolis to strike out on his own. Expanding on the bulk-purchasing concept that worked so well at Purdue, in 1986 he
approached 50 companies for written permission to negotiate overnight shipping discounts on their behalf.
He
worked out a program with DHL, which nearly all of the 50 businesses started using. When the company added Melvin Simon &
Associates (now Simon Property Group Inc.) to its client list, the cash started flowing. Dodson brought in friends Jay Geshay,
Mike Evans and Tom Jackson to help run the company.
"I had three college and high school friends who left
their jobs and said, 'I'll take the entrepreneurial plunge with you,'" Dodson said. "That's
what got the Dodson Group started."
The company used its discount-for-bulk model to bootstrap its way into
three businesses: delivery services, telecommunications products, and office supplies and furniture. The Dodson Group soon
was prospering, and in 1993 and 1994, it landed on Inc. magazine's list of 500 fastest-growing companies.
In 2002, Dodson unveiled SaveItNow! Franchising Systems, a wholly owned subsidiary that distributes its products
and services through a franchise network. In 2005, it launched Business Purchasing Systems to market e-procurement software.
But instead of buying cars and big houses with their cash, the company's management team had something else
in mind. Dodson, a devout Catholic, had been heavily influenced by the Christian ministry Young Life, as had other members
of his executive team. They decided to apply its tenets about giving back to the community to their own company.
In 1992, Dodson and business partners Jackson and Geshay formed the Sycamore Foundation and committed to fund it with 10
percent of the company's profits each year.
Dodson discussed the plan with Tempel, then the executive director
of the Center on Philanthropy at Indiana University. Tempel found it more than a bit audacious.
"There
aren't many companies in the United States that set aside 10 percent of … profits," he said. "I think
the average is less than 1 percent. Thinking about that from the very beginning was impressive for somebody just starting
a business."
The program began with a first-year contribution of approximately $5,000, but has blossomed
over the years to include the golf outing and the walking event. Dodson estimates that the foundation, through direct contributions
and fund raising, has given roughly $1 million to area not-for-profits.
As Dodson and the company's other
executives started receiving honors and recognition for their business and philanthropic accomplishments, it occurred to them
that the hard-working not-for-profits they sought to help received no such accolades.
So Dodson figured out a
way to give it to them: the Indiana Achievement Awards. Tempel said the program was such an original idea that there was almost
nothing like it in the country.
Spotlighting successes
The award
casts the limelight on organizations accustomed to laboring in relative anonymity. To some, the recognition is as bracing
as the cash prize.
This year's competition was open only to previous winners. The 2009 honorees, Second
Helpings and Mother Hubbard's Cupboard, will receive their $20,000 checks during a Dec. 8 awards gala at the Hyatt Regency
Indianapolis. Organizations supporting the awards through grants or sponsorships include Lilly Endowment Inc., The Dekko Foundation,
the Nina Mason Pulliam Charitable Trust, and the Christel DeHaan Family Foundation.
"It's a validation
that we're doing exactly what we should be doing," said Debbie Russell, director of development for Second Helpings,
which rescues surplus food and prepares meals for more than 50 social-service agencies.
"Getting this award
is a validation to us, and most of all a validation to our supporters that we're investing their funds as they should
be."
Second Helpings now is a three-time winner. Mother Hubbard's Cupboard previously won in 2005.
A nearly ruinous financial scandal within Dodson Group almost prevented the program from reaching its 10th anniversary.
A year ago, Jim Dodson discovered that his longtime chief financial officer, David Sullivan, had cooked the firm's books
for years, ultimately overstating accounts receivable by $2.7 million and stealing $422,539 from the company till. Sullivan
pleaded guilty to wire fraud this fall and is awaiting sentencing.
The wrongdoing, coupled with the recession
and other business setbacks, made bankruptcy a definite possibility. The company cut staff from 70 to 41, and the casualties
included Kate Hussey, who formerly coordinated the IAA program. Dodson found his company no longer able to act at the IAA's
host organization.
Stepping in to serve as host is the 6-year-old IUPUI Solution Center, which focuses on increasing
the state's stock of highly skilled professionals and facilitating partnerships with private industry, not-for-profits
and government.
Meanwhile, Dodson's company has weathered the worst of the crisis. And, as he has throughout
his career, Dodson sees positives blossom from the adversity.
To keep costs down, the company this summer will
employ three generations at the same time—Dodson, his 21-year-old son Matthew, who's a business major at Purdue,
and his 73-year-old father.
"My dad's only demand was the payment of his salary, $1, in advance,"
Dodson said. "That is a wonderful affirmation of love of family."•
Please enable JavaScript to view this content.