Two months after its ground breaking, OrthoIndy's $22 million outpatient surgery center in Greenwood faces a serious threat.

A provision in both the House and Senate versions of federal health care reform would not allow OrthoIndy physicians who have an ownership stake in the facility to refer Medicare or Medicaid patients there—not if they also expect those government insurance plans to pay OrthoIndy for services at any of its facilities.

The bills also would forbid physician ownership in yet-to-be-built hospitals.

These sharp restrictions on doctor-owned hospitals have been pushed by not-for-profit community hospitals for years, without success. But industry insiders now say passage is nearly inevitable.

Dr. John Dietz is chairman of Indiana Orthopaedic Hospital.
Proponents say the rule is needed because physician investors tend to send profitable patients to their hospital and unprofitable patients to the local community hospital. Critics say the proposed ban is simply an attempt by larger hospitals to drive out competition.

The prohibitions would be a big deal for OrthoIndy's four hospital facilities because they get 20 percent of their revenue from Medicare or Medicaid, according to data filed with the Indiana State Department of Health.

And that's on the low side for Indianapolis-area hospitals that have at least partial physician ownership. At Clarian North Medical Center, Medicare and Medicaid pay 30 percent of the bills. At Clarian West, it's 40 percent. At the St. Vincent Heart Center, it's 60 percent.

All those health care providers could add no beds, procedure rooms or extra investment dollars in any facility financially tied to the physician-owned hospital—or they would no longer qualify for Medicare and Medicaid payments. That threat would, effectively, prevent them from growing.

The bill "would essentially be a slow death sentence for all the physician-owned hospitals throughout the country," said Dr. John Dietz, chairman of OrthoIndy's Indiana Orthopaedic Hospital. Until it sold a minority stake in the hospital to St. Vincent Health in November, the hospital was 98-percent owned by physicians.

Officials at Clarian Health, an Indianapolis-based hospital system, are also concerned about the bills.

Clarian already operates two hospitals with physician owners—the Clarian North and Clarian West medical centers—and is still planning to have physicians own as much as one-third of the Fishers facility, which is supposed to open in 2011.

Because the hospital in Fishers, called Clarian Saxony, was not open Jan. 1, it will be ineligible to receive Medicare or Medicaid payments for patients referred there by physician owners, according to the House legislation. The Senate bill would set a deadline of Feb. 1, 2010, but Clarian Saxony won't meet that date either.

"We are waiting to see what happens," wrote Clarian spokesman James Wide in an e-mail. "We are monitoring the House and Senate legislation closely and will adjust our plans, if necessary."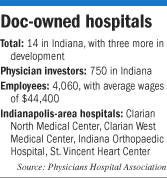 Not everyone sees health care reform as the death knell for physician-owned hospitals.

John Stewart, CEO of the St. Vincent Heart Center, said he expects the aging baby boomers to bring his physician-owned facility all the patients it can handle, ensuring a healthy financial future for a long time to come.

His main concern is whether there will be enough capacity to take care of all the patients in need. The Heart Center has yet to use the fourth floor of its facility at 106th and North Meridian streets—and would not be able to do so if the House health bill took effect tomorrow.

"Any cardiovascular programs just dying on the vine and going away is just ridiculous," said Stewart, whose facility is 35-percent owned by physicians. "Obesity is growing, smoking is growing like crazy, and we don't have the political fortitude to stop smoking in public places."

In addition, health care reform promises to expand insurance coverage to more than 30 million Americans, which could bring formerly uninsured patients to see health care providers more often.

Profitable hospitals

Physician-owned hospitals in the Indianapolis area have often been more profitable than general hospitals.

OrthoIndy's orthopedic hospital had a profit margin from operations of 27 percent in 2007, the most recent year available. The St. Vincent Heart Center had an operating margin of 20 percent last year.

Those hospitals benefit from the higher payments insurance programs give for orthopedic and heart surgeries. At Clarian's general service hospitals, the profit margins were decidedly lower.

The Clarian West Medical Center, which boasts 20-percent physician ownership, had a profit margin from operations of 4.2 percent last year. And the Clarian North Medical Center, with 36-percent physician ownership, actually lost money on its operations, with a margin of -2 percent.

Operating margins for all hospitals floated between 2 percent and 4 percent the past decade, according to the American Hospital Association.

Ed Abel, a hospital accountant at Indianapolis-based Blue & Co., said it would take more restrictions from Congress before physicians would abandon their stakes in hospitals.

"If the federal government further restricts physician ownership, then at some point in time, they're likely to throw in the towel," he said. But, he added, physician-owned hospitals could survive—even with the growth restrictions—by marketing to a larger demographic area or by trying to become the go-to specialists for particularly profitable surgeries.

But Bob Cimasi, a financial consultant to all types of hospitals, said that view overlooks that the new law would hammer the value of physicians' investments. By restricting growth, he said, ownership in a hospital would be extremely difficult to sell to other physicians.

"Who would want to buy into a situation where they're so restricted they can't grow?" he said. "Nobody."

Contentious debate

The argument for and against physician-owned hospitals has been loud and vociferous for a decade. In 2003, Congress placed an 18-month moratorium on physician referrals to specialty hospitals in which they held ownership.

Hospitals accused physician-investors of referring profitable patients to their facility while sending unprofitable patients to the general hospital.

The data on this "cherry-picking" argument is mixed, but that has not stopped the American Hospital Association from making its case to Congress year after year. The restrictions in the health care reform bill have shown up in nearly identical form 14 other times this decade.

There is good data, however, that show physicians tend to send their patients for more procedures when they have an ownership stake in a facility—at least when it comes to diagnostic image tests.

Numerous studies have shown that physicians who have an ownership stake in imaging centers send more patients more often to those centers, according to a summary of studies published in 2002 in the American Journal of Roentgenology.

And a 2007 study published in the journal Health Affairs concluded that one in three California physicians were referring patients for MRIs at imaging centers in which they had an ownership stake.

But Cimasi's firm, Health Capital Consultants, has conduced research showing that the proliferation of physician-owned specialty hospitals had no impact on the profit margins of general hospitals.

And Dietz noted that OrthoIndy's hospital has half as many complications on hip replacements as do general hospitals—which is better for patients and saves money for both government and private insurance plans.

But as it is, OrthoIndy officials are contemplating contingency plans for their Greenwood facility. Dietz said it might have to be reconfigured to provide services that do not run afoul of the new law. Or it might simply have to turn away Medicare and Medicaid patients.

"It would be, in our view, very, very unpalatable to close our doors to Medicare patients," Dietz said. "But that will be one of the things that has to be considered."•