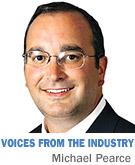 The hardest-hitting recession in 75 years has left as many as 70 percent of consumers (many newly credit-challenged)
with battered credit scores. However, retailers who approach these customers with sensitivity and integrity can find great
opportunity both for themselves and the customers they help get on the road to recovery.
It has been our experience
that if you approach this consumer segment with a desire to help them advance and a process for building their credit, one
can make an honest, well-earned profit.
These consumers' credit scores have dropped into what is termed subprime/near-prime
status, with Fair Isaac Corp. (FICO) scores at 620 and below. Yet they still need goods and services, but can no longer qualify
for traditional financing.
They have had credit cards canceled or limits cut from $10,000 to $500. Many of these
are consumers with good incomes who were affected by the demise of the housing market.
Burdened with the need to
move for new employment and the inability to sell their home, they face the challenge of not meeting their mortgage obligation.
Others dealing with extended unemployment for the first times in their lives are forced to make difficult decisions in determining
what bills to pay and which to put off.
The recent flight of financial services from the subprime markets has left
a void and a large group of consumers who are severely underserved in their basic human needs. With an ever-increasing market
of consumers with credit challenges who find it difficult at best and impossible at worst to find financing for basic need
items such as furniture, appliances, cars, living space, financial services and more, there is great opportunity!
Markets that now serve these consumers are highly fragmented, typically unprofessional and sometimes unscrupulous. Therein
lies great opportunity—to serve these customers with products in a clean, friendly, professional environment. Doing
so can exceed their expectations and drive customer loyalty.
It is important to understand the risks in providing
credit to credit-challenged customers.
In reviewing credit bureau reports of hundreds of thousands of consumers
in more than 20 years, we at J.D. Byrider have learned one thing: No two are completely alike. Good, honest people of all
races, ethnicities and income levels sometimes run into difficulties that affect their credit.
In taking the time
to discuss the difficulties that led the customer to the situation of not qualifying for traditional financing, you will find
thousands upon thousands of them who desire to repair their damaged credit and are willing to honestly commit (to a company
that will offer them goods and services) their best efforts to live up to their obligations.
Large financial institutions
suffering from the subprime (and now prime) mortgage meltdown forgot to consider each customer individually and build a long-term
relationship with them. They simply underwrote the loan using credit algorithms, securitized the debt, and sold it off to
hedge funds and other financial institutions seeking high profits.
It is essential in providing credit to subprime
consumers to sit down face-to-face and discuss line-by-line issues on their credit bureau reports and their ability to repay
their commitment.
In providing credit and services to consumers who have shown difficulty in meeting financial
obligations, it is also important to know that sometimes the answer is no. Taking the time to help them build a realistic
budget to ensure they have the ability to repay before extending credit seems like a novel approach but it was a basic fundamental
in years gone by. Nothing can replace the experience of looking someone in the eye and building trust.
The recognition
of the tremendous opportunity in meeting the needs of these consumers is manifesting itself in the franchising industry as
of late. Companies and brands catering directly to these consumers are outpacing many other companies in their respective
industry segments.
Check-cashing and financial-service franchise brands are growing. Even Wal-Mart offers financial
services to those without traditional banking relationships. Self-finance and rent-to-own brands, such as J.D. Byrider, Aaron's
and ColorTyme, have offered franchised retail outlets providing furniture, electronics, automobiles and appliances for decades.
If approached with careful consideration of the risks and a business model that helps consumers advance, one can find
great satisfaction in meeting the needs of these consumers in transition.•
__________
Pearce is vice
president of franchise development at J.D. Byrider Systems Inc.

Please enable JavaScript to view this content.